It won't be long now before the temperatures start to dip and the transition from fall to winter begins. For homeowners, having efficient heating options is important, especially when it comes to comfort.
A direct vent fireplace could be the answer to heating your living room, family room, den, or lounge this winter.
First off, Traditional Gas Fireplaces look great in any room. They have the look of a wood fireplace without the mess that comes with burning wood, producing ashes and soot, but still, add that nice homey touch.
But, how do they work as a heat source? Keep reading to learn more about how direct vent fireplaces work and how they can be a great option for you for both heat and home decor this winter.
How Does Direct Vent Fireplaces Work?
A direct vent fireplace will have either rigid or flexible venting that allows it to vent either through an existing wood burning chimney or through a wall to the outside.
The vents draw combustion air from outside. Cool air from the room where the fireplace is located is pulled in through the lower chamber. This air circulates around the firebox and is released back into the room as warm air by the fan. The heat from the central burner also enters the room directly at the face of the unit.
The terminal of the vent is mounted to the outside of the building, which connects the fireplace indoors. Venting occurs at the top or rear of the fireplace, allowing for versatility in installation depending on the model of a fireplace and the design of the household.
Where are Direct Vent Fireplaces Usually Placed?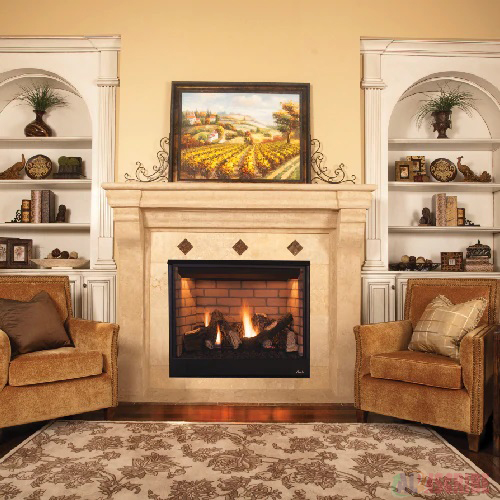 One of the best parts of traditional gas fireplaces is that they can be placed in essentially any room in a house. Many models of direct vent fireplaces are perfect for a living room, bedroom, basement or anywhere else in the house. No matter where you choose to place your fireplace, it is sure to become the focal point of the room.
Why You Should Choose a Direct Vent Fireplace?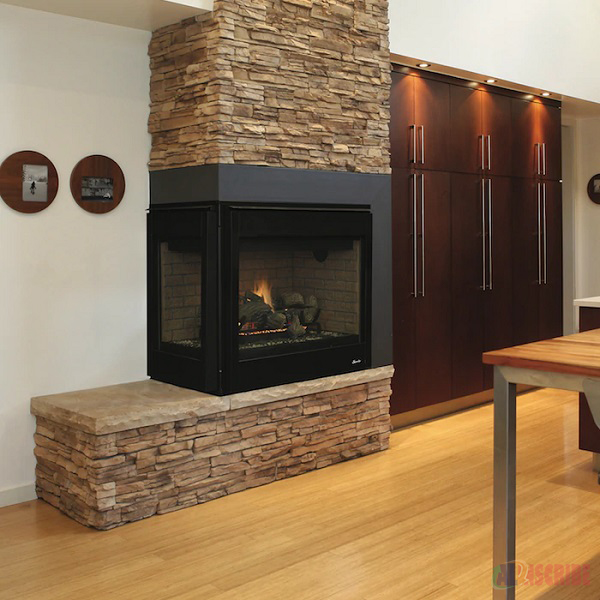 As previously mentioned, traditional gas fireplaces are cleaner and easier to maintain than a wood burning fireplace that leaves behind ashes and soot. This makes it a more convenient option for homeowners who want to have a fireplace but don't want the tedious task of cleaning it or preparing it. With gas fireplaces, just flip a switch and the fire can be started.
Direct vent fireplaces also help you save on the cost of energy bills. Using natural gas for your fireplace can save a good chunk of money on your energy bill by utilizing zone heating. This is because direct vent fireplaces are incredibly efficient, capable of heating 1,000 square feet at an affordable cost, easily better quality than what you would get from a wood fireplace.
For the best selection in traditional gas fireplaces, either a direct vent or B-vent, check out Embers Living. With brands like Superior, Empire Boulevard, Napoleon and more in stock, they have direct vent fireplaces of all sizes and styles to fit your home and get you heating in style.
Embers Living is dedicated to providing great fireplaces to homeowners nationwide and educating their customers so they can enjoy everything about their fireplace for many, many years to come. They provide an educational and fully immersive shopping experience to ensure that customers stay informed.
Have any questions or concerns about what you are looking for in a fireplace? Contact Embers Living today and they will be happy to provide all of the answers you are looking for so that you can get the most value from your fireplace.
For more information about Portable Grill Gas and Direct Vent Gas Stove Please visit: EMBERS LIVING.