They Are a Type of Barcode Printer Labels!

The Zebra printer labels are printing machines that are used to print barcodes on labels. So, if your company needs labels, you can use this type of barcode printer labels instead of purchasing them or this type of service from another company. There are two different types of printers that you should know about. The methods used to print are different. And they should be used for different purposes as well.
Direct thermal printer. This type of printers is very small, and they do not require ink. They only use heat to print the barcode on the labels. As you can imagine, this method is more economical, and it will cost you less than using the other method. But there is a downside as well. The type of labels used is very sensitive to heat. So, if they are exposed to too much light or heat, then they will start to fade away. Or they will suffer overexposure. In both cases, the labels will most likely become unusable. For this reason, you should use this alternative only for barcodes that are for temporary use. A good example is the shipping label, where it becomes irrelevant after the package arrives at the destination.
Thermal transfer printer. These printers are almost the total opposite of the direct thermal ones. Their size is much bigger, and they also use ink. More precisely, they use heat to transfer the ink from a ribbon onto the labels. Doing this means that the material used does not need to be heat sensitive, and it will not have the same problems as its alternative. It is the opposite. This type of label is quite resistant. It does not fear either heat or liquids. So, it can be safely used for long term purposes. One of the most common uses for this type of printer is to create the barcode labels used to identify products.

Are There Any Other Barcode Printer Labels Alternatives?

Zebra is a renowned brand, and many companies use their printers. But there are also many other alternatives that you will be able to find on the market. So, if you do not like the name, or you have a problem with the brand, then there are several alternatives from which you should choose. All of them are the top brands in this industry, and their barcode printer labels will do an extraordinary job.
 
Honeywell. This company is one of the biggest ones in the world. It does not only produce printers, but it also provides a large variety of automation solutions for many different industries. So, you can be sure that their printers will also be one of the best in the market. Such a large company that specializes in automation will use the top technology available in their printers.
Datamax. It is another big company, but it is a more specialized one. It only provides technology solutions that improve organizational workflow. So, the barcode printers are not their only products. But being specialized also makes all their solutions more customized for the needs of their clients. So, the chances are that you will be able to find the exact printer model that will take care perfectly of all your needs.
Printronix. This company is also a specialized one. But the field is quite different as well. They offer a big array of printers. Not only those used for labels. But almost any type of industrial printers that your company may need. As a specialized company in printers, their technology is also top-notch, and the quality of their products will not disappoint you.
Intermec. This company is a large manufacturer and supplier of automated identification and data capture tools. This means that you can not only get a label printer from them, but you can also get a full set of equipment that you may need in your company. As you can see, it is another big company that has a good reputation and provides products that you can trust to do their job properly.
Why and When Should You Use Zebra Printer Labels?

The Zebra company is actually a direct competitor for Intermec. But in the end, it does not matter if you are going to choose the Zebra printer labels or another company. What matters is that you need this type of tool to decrease the costs of your company. Instead of using the services of another company, you should just buy your own specialized printer and take care of this task by yourself. This will reduce the costs of your company by quite a large amount.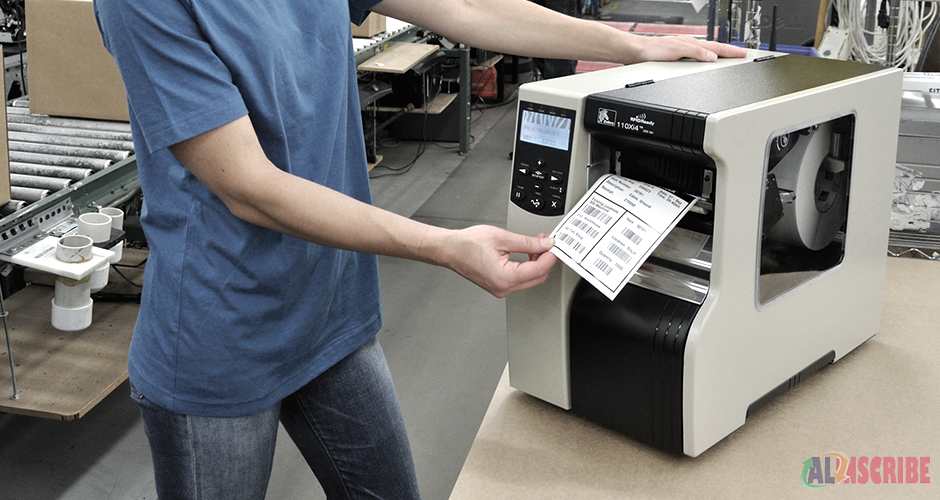 Keep in mind that these labels do not only have one type of use. The direct thermal method can also be used for receipts. How so? Well, this type of label does not need a high resistance because it becomes useless quite fast. So, you can safely use this low-cost method for that purpose as well. The thermal strafer method also has other uses. For example, you can use print inventory labels that will help you better organize your stock. The durability is high enough, so the labels will not degrade in a year or two. And there are also many other uses that you can find for both types of labels. But from where can you the perfect labels for your printer?

Many of the printers from a big brand like those motioned above, will require some specific types of labels. So, you need to search on the internet for specialized shops that can provide you with a the perfect labels for the printer that you will be using. All you need to do is to find one of these websites and check if they have what you are looking for. If they don't, then you just have to look for another online shop. Of course, you should also look for some reviews that will confirm if the website can be trusted or not.