Your trade show exhibit is all about presentation and drawing people into your booth. In order to do this, you want to have the proper supplies to create a great presentation that works for your brand and gets your message across the right way.
A Trade Show Booth Table display may be exactly what you need. By using a table, you give yourself a place to display signage, products, flyers or other paperwork, there is so much you can do with a display table at a trade show
Below are some ways that you can make a tabletop display more effective in Trade show
Choose the Right Tabletop Display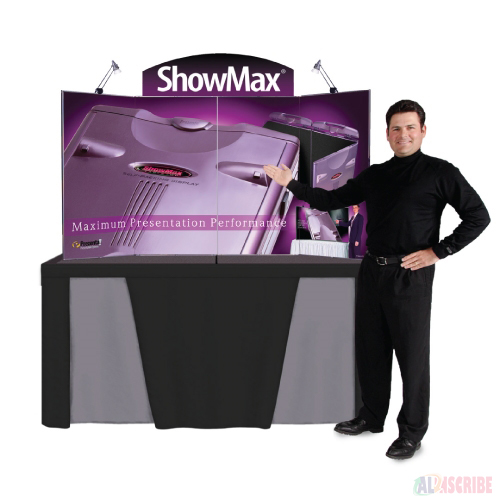 Tabletop displays come in many different shapes, sizes, and styles. You want to choose one that is appropriate for your event. Sometimes that can include the size of the table you have. If you have a larger table, you may choose to use a modular display. For smaller tables and surfaces, a briefcase-style display may work better.
Great Visuals
Humans are visual creatures, so if you want to make an impact on the people attending a trade show, you need the right visuals for your display. Using large images and messaging that fits in with your brand, as well as the company logo and tag line, are essential to building the visuals on your trade show display. Don't go overboard with the wording on the display either. Instead of using long-form wording, use bullet points, and make it easy to read. Your tabletop display should be treated more like a billboard and less like a brochure.
Keep It Clean
In addition to making your display have enough room to breathe, you want your trade show booth table to remain free of clutter as well. You may have other pieces of your presentation that can take up space on your table like flyers, handouts or brochures, but limit them as much as possible and don't let it affect the view that visitors will have on the display.
Add a Table Cover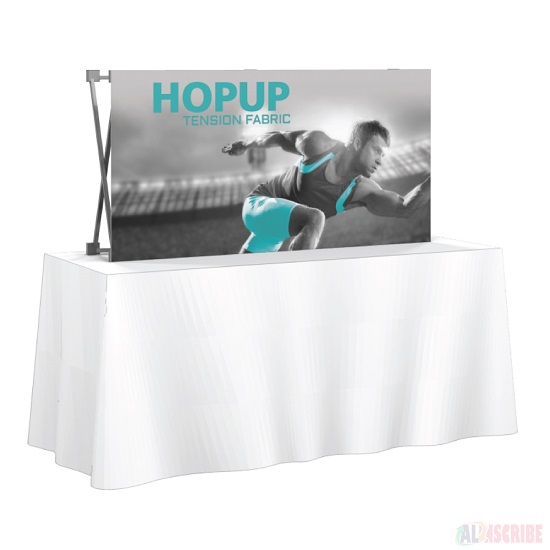 Give yourself another opportunity to add your branding or message with a table cover for your trade show booth table. There may be table covers provided by the organizers of the trade show, but they can be worn or plain and don't do much for your presentation. Give yourself a boost by displaying your logo and brand on a table cover. It makes your display look more professional and helps you stand out from your competition.
Put Your Booth Space to Use
When your tabletop display has everything you need -- the messaging, logo, branding and images -- you want to make sure the rest of the space you have is being used as well. If you have space, add a literature display to show off your brochures, flyers or other handouts, or add other signage or displays to showcase the product. Getting ahead of your competition is difficult, but you can take the right steps by adding any further elements.
At TradeShowPlus, you can find all of the supplies you need in one place and get everything ready for your next show. With easy solutions to make the most out of your trade show displays, you can focus more on the other aspects of your booth. TradeShowPlus doesn't just have the products you need, but the printing ability to customize products to fit your brand. With state-of-the-art printing, you get your materials completely customized and ready for your next show.
So check out the selection of products and learn more about the printing services available with TradeShowPlus and get the supplies to make your next trade show display to another level.
For more information about Trade Show Displays and Trade Show Table Covers Please visit : Tradeshowplus.