A Pop Up Display Frame is a great way to enhance your trade show space. These are commonly used at trade shows as a display to showcase your brand and information about your products, and they serve as a backdrop for the rest of your presentation.
Trade shows are all about making an impression and showing off your products and brand in a way that draws people in and catches their attention. With the right display, you can get the attention of anyone at a trade show and start to build up your audience so that you are continually marketing yourself and your brand with every show you attend.
Benefits of a pop up display frame
When choosing the supplies you use for a trade show, you want to know the benefits and how it can help you get more out of a trade show experience. Here are some of the benefits of a pop up display frame.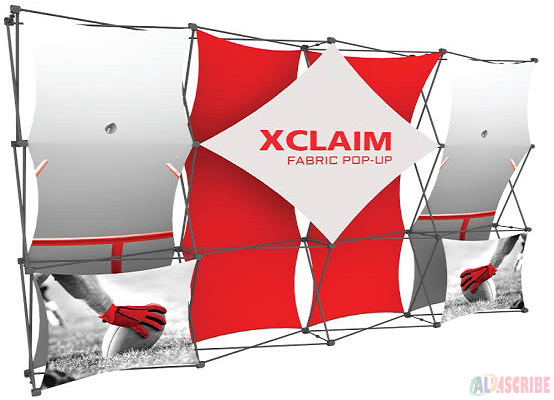 Easy to Assemble
Time is everything at a trade show, so you want to have supplies that are easy to set up and don't require a lot of effort. Pop up displays are perfect for this since they are easily connected within a sturdy frame. The frame is retractable so it can be assembled in seconds, allowing you to focus on other things in the time leading up to your event. When the event is over, you can also disassemble as quickly as you set it up.
Durability
At a trade show, you need to have a display that is durable. Many of these pop up display frames are made of aluminum, which makes them more flexible and easier to adjust and maintain. The light material also makes it easy to transport, so it is never a struggle to get the display from one show to another. The durability of the display frame also means that you can focus more on your presentation and less about your display and your equipment.
Technology
The best displays at trade shows are including multimedia elements or interactive elements that make your visitors feel more involved. With displays that now include and embrace the use of technology, there are new elements added that can display information and showcase your brand. This can be done through product presentations, instructional videos, animations, talk shows or other video segments that show off the product in a new way.
Easy Storage
When you are done with your trade show presentation, you want to be able to store your materials neatly so they can always be accessed quickly when you have your next show or you need to make updates to your display before your next event. Pop up displays can fold and be stored in small spaces, making it easy to store them within your own home and are much smaller than other forms of trade show advertising.
A pop up display can change the way you attend a trade show. When you need to get all the supplies you need for your next trade show, you can trust TradeShowPlus with everything. For over 17 years, TradeShowPlus has served customers with all of their needs from banners and stands to signage and other customizable displays. In addition to selling quality products that help expand your display, TradeShowPlus also does printing to customize any one of their 2,500 products available and ready to order with or without custom printing.
So get yourself ready for your next trade show event with the help of TradeShowPlus and visit us online at TradeShowPlus.com to get all of the materials you need to succeed.

For more information about Exhibition Banner Stands and Trade Show Displays Please visit : Tradeshowplus.