Sometimes a phone and a classic camera are simply not enough to have a perfect memory. Then along comes Gear 360.Samsung's camera is capable of recording staff of 360 degrees, it can make a photo or video clip. This means that the photos have a "full circle". All this thanks to the fact that instead of a single lens camera has two. Each is paired with a 15-megapixel photo sensor, which allows you to capture 360-speed video-record 3840 to 1920, or a photo-resolution 30-megapixel camera. In addition, it may be the true and classic wide-angle video or photo viewing angle of 180 degrees.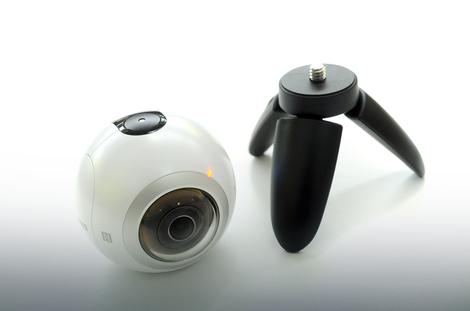 In practice, it looks pretty good! It's very simple to pair it with your phone via Bluetooth and launching applications. Initially, you need a wi-fi connection, or you can later use it without internet. With this little device you see exactly what you are shooting/recording and everything you save of course, you can immediately share on social networks.
View over 360 photos on Facebook is very interesting, and it is possible that the content, if it connects with the Gear VR viewed through virtual reality. The look of the camera is attractive.
It is compact, in the form of small balls. With it comes a podium on which you can put on selfie stick or longer tripod.
We tried the camera on a short trip and first-hand can not confirm that with 360 Gear attract the attention of people as it is new to the market, striking and extremely fun to use.