The fifth generation of Apple iPhone offers three variations of the phone: the iPhone 5, 5c, and 5s. Each sport slightly varied features, yet all fall into the same category of premium Apple products. Whether buying a new iPhone 5s or searching for iPhone 5C Parts, knowing the differences between the three types of iPhone 5 models can help you to make informed decisions on your phone.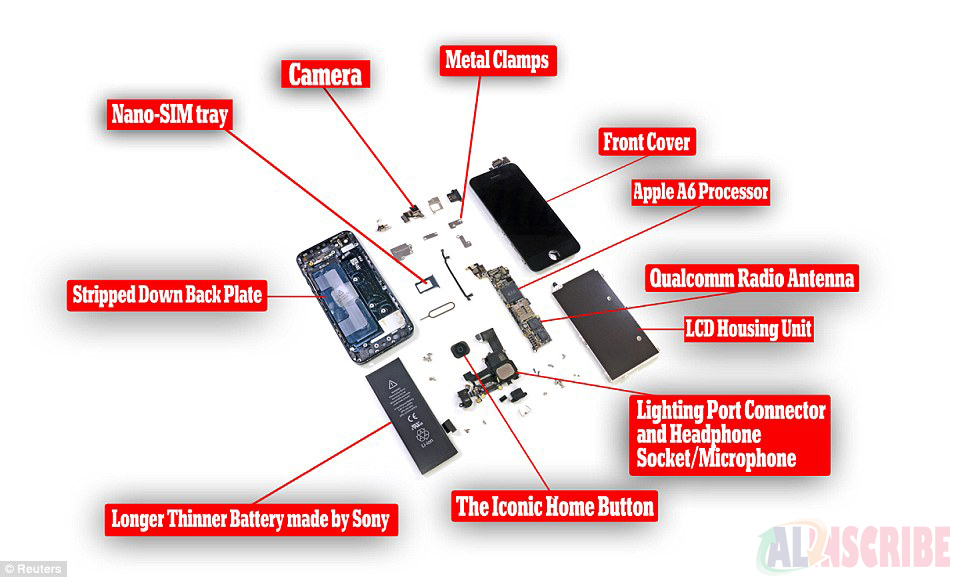 iPhone 5
The first to be released of the iPhone 5 generation series, the iPhone 5 shares similarities to the 5s in that it is cased in an aluminum outer covering that is edged with a chamfered cut band. The 4" multi-touch IPS LED-backlit 1136 x 640 (326 PPI) Retina display screen houses a front "FaceTime" camera that contains a 1.2-megapixel sensor and shoots 720p video. The back "iSight" camera of the iPhone 5 shoots 1080p video with an 8-megapixel sensor, 1.4µm pixels, a five-element lens, a sapphire crystal lens cover, a single LED flash, and a hybrid IR filter.
The iPhone 5 also supports autofocus, tap to focus, face detection, Panorama mode, and photo geotagging. This phone has an extended battery life, supporting 40 hours of audio playback, 10 hours of video playback, 10 hours of Wi-Fi, and 8 hours of talk time on 3G. With multiple options for storage space for all of your music, photos, and applications, the iPhone 5 is available with 16GB, 32GB, or 64GB of flash storage, also supporting iOS 6, iOS 7, iOS 8, iOS 9, and iOS 10. As the first model for the fifth generation iPhone, the iPhone 5 sports high-level features to meet your needs.
iPhone 5c
The iPhone 5c puts a new and colorful spin on the iPhone, as it expands the iPhone 5 design, offering a phone with a unique polycarbonate over steel body design in 5 flashy colors: green, blue, white, pink, and yellow. Similar to the other iPhone 5 models, the 5c sports a 4" multi-touch IPS LED-backlit 1136 x 640 (326 PPI) Retina display screen. However, the iPhone 5c is slightly thicker and heavier than the 5 and 5s, with an extra 0.05 of an inch of thickness and an extra 0.7 of an ounce of weight. The iPhone 5c comes equipped with a bottom mounted headphone jack, microphone, lightning connector, a single built-in speaker, and a pair of Apple "EarPod" headphones that have an integrated music remote and mic.
iPhone 5s
One of the most advanced and innovative features that the iPhone 5s has that is not shared by the 5 and 5c is the embedded 'Touch ID' fingerprint sensor on the home button. This sensor allows the phone to utilize biometric identification, rather than forcing the user to take the extra time to fuss with a passcode. Like all iPhone 5 models, the 5s has a 4" multi-touch IPS LED-backlit 1136 x 640 (326 PPI) Retina display screen. However, the housing of the 5s is composed of aluminum with a chamfered cut band around the edges. The iPhone 5s is offered black, white, silver and gold. The phone's back camera has an 8-megapixel sensor, with 1.5µm pixels for increased detail and clarity. The added, "Burst mode" for photos and "slo-mo" for video features separate the 5s from the 5 and 5c. The iPhone 5s models support iOS 7, iOS 8, iOS 9, iOS 10, and iOS 11.
From the 5 to 5s, the fifth generation iPhones sport highly pixelated cameras, a broad range of storage availability, and much, much more. With such high-end features, in-store repairs can be shockingly costly. Instead of taking your phone into a store, consider fixing it yourself; iPhones are much easier to fix than many realize.
When looking to find anything from replacement iPhone 5c parts to a new screen for your iPhone 5, iDemiGods has all the premium parts to keep your iPhone 5, 5c, and 5s looking and working like new. Visit iDemiGods.com for more information on premium iPhone replacement products, and much more!
For more information about iPhone SE Parts and iPhone 5 Parts Please visit: iDemiGods.