Birth: Born June 4, 1975, at Los Angeles, California, the actress is now 42 years old. She is the daughter of veteran actor Jon Voight
Training: Angelina attended Beverley Hills High school, but later transferred to Moreno High School. She also attended Lee Strasberg Theatre Institute with ambitions to become an actress. She completed a home course in embalming and has a license to fly one-engine aircraft. Some film study was undertaken at New York University
Personal Life: Angelina was married three times. First to British actor Johnny Lee Miller, then to Billy Bob Thornton and lastly to Brad Pitt with the divorce still being finalized. She is an admitted Bi-Sexual.
Home: Los Feliz, California. She and Brad Pitt jointly own a number of properties in various localities and ownership will be settled with the divorce proceedings.
Activities: Besides her activities as an actress, Angelina has a directed a number of films and in addition has written the script for a recent movie.
Political Support: Politically independent Angelina's real interest lies in humanitarian work.
Few actresses and for that matter actors have been able to generate the interest that Angelina Jolie has in a relatively short career on the big screen. With 32 feature films and one more in the process of preparation, Angelina has grabbed the admiration and love of the movie going public but also the hatred and contempt of a sizable portion of the same demographics. Angelina succeeded in rising to one of the top earning actresses vying with others like Julia Roberts and Sandra Bullock. Despite her behavior, often described as weird, bizarre, and eccentric, the public continues to follow her life with avid loyalty and approval. One of the reasons may be that Angelina is considered to be one of the most beautiful women in the world.
There are many annual lists classifying the sexiest, the most beautiful, the most talented, and the most important celebrities in the world, some of these concentrating on the actors and actresses that adorn our screens. To be included in these lists is not all that remarkable in view of the profusion of these classifications. What is remarkable, however, is the number of times Angelina has been placed at the top of these lists or in the alternative holding one of the top positions, year after year ending up in the top ten of these various polls and schedules. That is the enigma of Angelina Jolie. You either rave about her or you turn your back on her, but newsworthy she will always remain.
Birth
Angelina Jolie is the daughter of famous veteran actor Jon Voight, himself at some stage an A-list actor of note. Her mother was a model and actress Marcheline Bertrand. Angelina has one sibling, an older brother James Haven. Although James is an actor like the rest of his family his success can only be described as limited. Mother Marcheline gave up her own career ambitions to raise her children. When Angelina was only one-year-old her father left the family leading to a divorce, as a result of an affair with another woman. Angelina has publicly stated that she could never be involved in a relationship or affair with a married man as she knows the pain and suffering that her father's actions caused the family.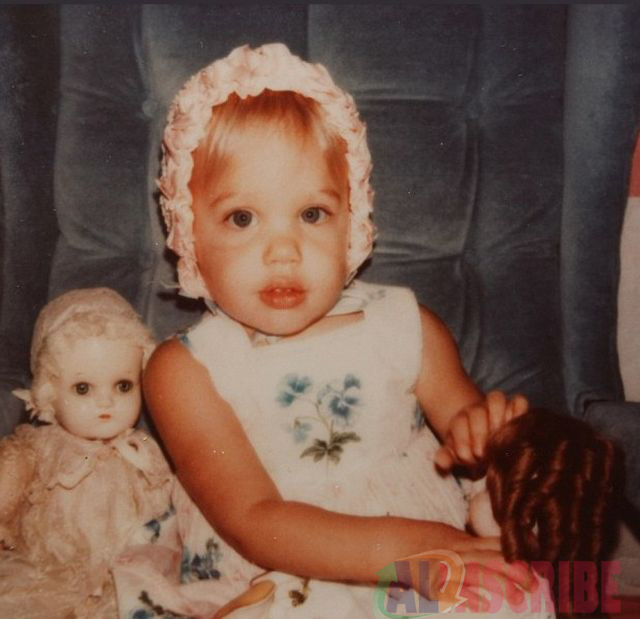 Tragedy hit Angelina and James when their mother developed ovarian cancer. Treatment was not successful and she passed away in January 2007. Despite the fact that Angelina was always well cared for she felt confused during her school years. She felt at times that she did not fit in and suffered a series of illnesses which will be described later in this article. Her relationship with her father always uneven, remains strained.
Training
After her parents' divorce in 1976 mother Marcheline, having entered into a new relationship moved with her new love interest to the Palisades, New York where Angelina, now six years old, started her schooling. After five years in the Big Apple, the family moved back to Los Angeles. Angelina attended Beverley Hills High School but was never happy there, feeling that she did not fit in. With glasses and braces and being extremely skinny, she was the object of much teasing. To ease her unhappiness Angelina moved to Moreno High School, but with no success at breaking her isolation.
She was a lonely disconnected punk kid, wearing all black punk clothes. She also participated in punk dancing sessions where participants slammed into each other to the tune of heavy metal punk music. Angelina even developed an interest in knife throwing. She had a live-in boyfriend which her mother allowed because she felt it was better to see and know what was happening under her own roof rather than worrying about an absent child away from home. It was during this time that Angelina took a home course in embalming expressing interest in a possible career as a funeral director.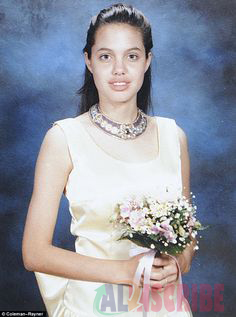 At the age of 16 Angelina completed her high school diploma and set up house in her own apartment, having ended the relationship with the live-in boyfriend. Angelina tried her hand at modeling but made no headway with the result that she returned to her interest in acting as a career. Training at the Lee Strasberg Theatre Institute for two years she appeared in several stage productions. She also completed some studies in acting at New York University. Later she joined the well-known Met Theatre Group in Los Angeles.
Personal Life
The personal life of Angelina Jolie appears to be strongly linked to the development of her career as an actress. She married three times with actors playing roles in films that they starred in together. While starring in one of her earliest films, "Hackers" with English actor Johnny Lee Miller the couple fell in love and was married soon thereafter. When Angelina gets involved in something she does it with conviction and so it has been with her marriages. She was dressed in black leather pants and a white blouse for her wedding. In her own blood, the name of her new husband was written on the white blouse for the world to see. Two and a half years later the couple split and divorce proceedings started.
In 1999 Angelina starred in the movie "Pushing Tin" with Billy Bob Thornton. Once again Angelina lost her heart and fell in love head over heels with Thornton 20 years her senior. So madly in love, the couple was that they wore vials containing the blood of the other partner around their necks. They left no opportunity unused to emphatically declare their undying love in public. Without warning, the couple separated in 2002. Of the separation, Angelina declared that one day she woke up and the magic was just gone.
Another affair that caught the attention of the public in a big way started with the filming of the very successful movie "Mr. and Mrs. Smith" paring Angelina with Brad Pitt. Rumors abounded that there was red hot chemistry between the two stars. Pitt was, at the time, still married to actress Jennifer Aniston and all rumors were denied by both Pitt and Jolie. The sensation and scandal of the stories were confirmed when Pitt left Aniston and the couple was divorced. In January 2006 Angelina announced that she was pregnant with Pitts child.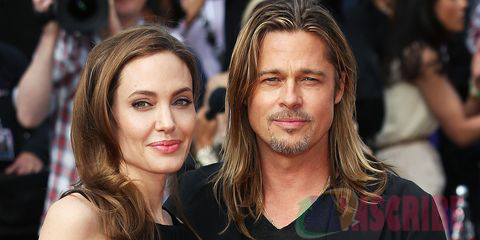 By the time the relationship with Pitt started Angelina had already adopted a Cambodian child. At the beginning of their relationship and shortly before the birth of her natural child conceived with Pitt, Angelina adopted a second child from Ethiopia. Shortly after the natural birth Pitt also adopted the two children of Angelina. Yet another adoption followed, this time of a Vietnamese child in 2007. In June of 2008, Jolie gave birth to twins fathered by Brad Pitt to complete the six children legally parented by the two stars. In 2014 the couple officially tied the knot when they were married in France.
During her teenage years, Angelina suffered from a number of stress-related ailments including self-mutilation, eating disorders and sleeplessness. When her mother died from ovarian cancer, Angelina was warned that she carried the same gene that caused her mother to develop cancer and as a preventative measure, Angelina underwent a double mastectomy, later followed by breast implants. Following the birth of her twins, Angelina underwent yet more surgery to remove her ovaries and fallopian tubes for the same reason.
Prior to her marriage to Johnny Lee Miller Angelina had a relationship with model-actress Jenny Shimizu. When questioned about it she confirmed her love for the Jenny and disclosed that she was bi-sexual.
Another incident that caused a stir was a passionate kiss in public with her brother James Haven followed by a declaration during her Oscar acceptance speech that she was never more in love with her brother than that moment. Rumors of an incestuous affair were subsequently denied by both parties.
As famous as Angelina is for the roles that she portrayed on screen is her involvement with humanitarian projects of a great variety. Again, it can be stated that she outshines her fellow actors as she is regarded as a leading light in her endeavors to improve the world. She became a Goodwill Ambassador for the United Nations High Commissioner for Refugees and continues with charity work in a number of fields.
Her relationship with her father has always been unpredictable. At times, the two of them did not speak to each other for years and even made disparaging remarks about each other in public. Two reconciliations have left father and daughter with an uneasy truce but lacking in a profound and caring contact as is often the case between father and daughter.
At present Angelina and Brad Pitt is going through a bitter divorce after a much-publicized spat in public. Details of this development are provided in our article entitled "Tragic Turn for Superstar Brad Pitt" where readers can check it out for more details.
Career
Angelina Jolie performs her acting roles with the same passion as she does everything that she becomes involved in. She is an actress of great talent with some very successful movies behind her name. The two "Lara Croft" pictures for example, low on critical acclaim and rated poorly by the movie public were nevertheless, huge commercial killings. With her name attached to a project, reliance can be placed to a high degree that the public would come out and support the movie. Her 2014 movie "Maleficent" was a huge money maker and a personal best for Angelina. She has also tried her hand at directing and wrote the script for "By the Sea" in which she starred with then-husband Brad Pitt.
Critical acclaim for her work has not been absent and she is one of a few performers who has won three Golden Globes in three consecutive years for work in different media. One of these was the made for TV movie "Gia" showcasing Angelina's talent to the Hollywood moguls. She won the Oscar for best performance by an actress in a supporting role for "Girl Interrupted" and was nominated for an Academy Award as best actress in a leading role for the acclaimed Clint Eastwood project "Changeling". On occasion, she has threatened to abandon acting but so far, this position has not been reached. Hopefully, we will see more of this beautiful and talented woman in future projects.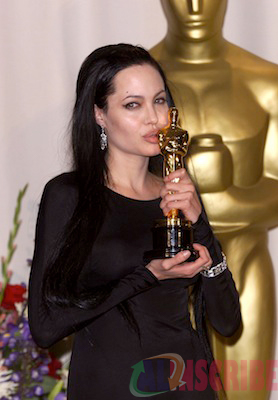 Filmography
Sky Captain and the World of Tomorrow 2004
Lara Croft Tomb Raider: The Cradle of Life 2003
Life or Something Like It 2002