Making a cocktail is an art and it's one that can be made more beautiful by using a hollowed-out pineapple and using it as a cup to hold your cocktails. There are a variety of tasty recipes that can be used to make cocktails and I will describe five recipes below.
Top five recipes of Pineapple Rum Cocktails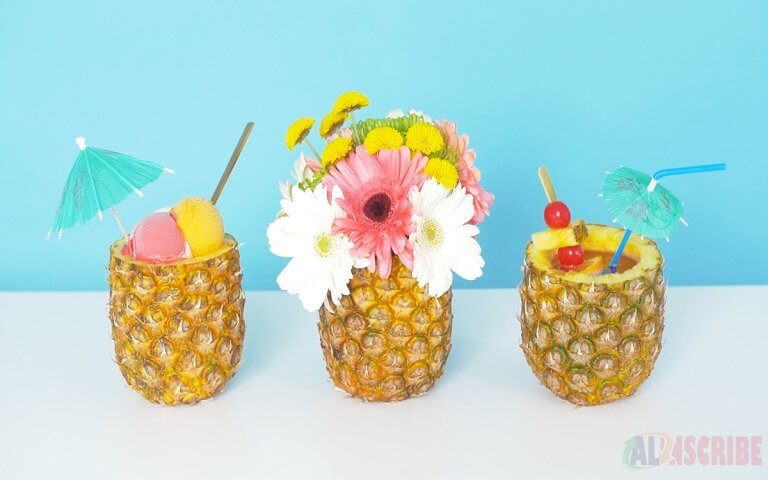 1. Captain Morgan Daiquiri
The Daiquiri cocktail dates to the 1800s. Emphasizing the flexibility of the Captain Morgan blend, this revitalizing rum is very old and refined with an exceptional taste that goes well with many kinds of fruit.
Ingredients
1/2 oz Captain Morgan rum
1 oz Pineapple juice
Orange peel
1/6 oz Simple syrup
Tools
Cocktail shaker
Bar spoon
Instructions
In the cocktail shaker, stir the fresh lime juice, Captain Morgan rum, and the simple syrup
Add some ice cubes to the mixture and shake the blend until chilled
Strain the mixture into a hollowed-out pineapple
Garnish with the orange peels and serve
2. Bacardi-Pineapple Handshake Cocktail
Bacardi is a globally recognized rum. The brand is the leading family-owned spirits businesses. Bacardi premium rums are aged between ten years to sixteen years to yield a rum that is a deep reddish-gold color and has a rich, smooth taste.
Ingredients
1 oz Coconut rum
1 oz Bacardi rum
5 oz Pineapple juice
Tools
Instructions
In the cocktail shaker put ice cubes and combine with the Bacardi rum, pineapple juice, and the coconut rum
Shake until cold
Add fresh ice and serve in a hollowed-out pineapple
3. McDowell's Explicit Cocktail
McDowell's rum is Indian made with global recognition since its 1991 launch. This cocktail provides a stunning and sweet tone that is high above the average cocktail. It is packed with bold color and bright flavors that is enhanced by the sparkling rum. It is as good to look at as it is flavorful.
Ingredients
1 oz McDowell's rum
1/2 oz Blue Curacao
1 oz Vanilla vodka
5 oz Midori
1/2 oz Pineapple juice
1/4 oz 7-Up
Tools
Instructions
Mix all the ingredients above into the cocktail shaker and shake to chill
Pour into a hollowed-out pineapple and top with 7-Up and ice cubes
4. Cacique Mojito
Cacique is a Venezuelan rum that was introduced in 1959. This rum is presented in numerous varieties from the Cacique 500 to the most luxurious Antiguo. This classic Venezuelan cocktail with its smooth rum, when mixed with tangy lime, fragrant mint, and a portion of the sweet simple syrup and served with some pineapple juice, will produce a bubbly, light drink and a flawlessly refreshing summer cocktail for your party guests.
Ingredients
5 oz Cacique rum
1 Sprig of mint
6 Fresh mint leaves
5 oz Simple syrup
1 oz Pineapple juice
1/2 Lime, cut into wedges
Tools
Instructions
Muddle the mint leaves and lime with the simple syrup in the shaker
Add Cacique Rum and fill with ice
Shake well and pour into a hollowed-out pineapple
Top with the pineapple juice
Add mint sprig for garnish
5. Bonus Recipe- Nutritious cocktail
This Captain Morgan and Pineapple Fruit Cocktail consist of a mixture of apple, pineapple, and orange fruit juices to make a nutritious cocktail.
Ingredients
1 1/2 cups Pineapple juice
1 cup Apple juice
1/2 cup Orange juice
1 tablespoon Lemon juice
1 A pear that is sliced into smaller pieces
3 oz Captain Morgan rum
Instructions
Mix all the ingredients in a large pitcher
Let the mixture chill in the fridge
Serve in a hollowed-out pineapple with ice cubes and garnish with the pear slices
For more information visit our website www.biggietips.com