Before you are allowed to work on any Six Sigma project, you need to go through Six Sigma certification. Depending on your level of understanding of Six Sigma, you will need to undergo the various belt courses and certifications. Kaizen events, on the other hand, are organized to make the process of implementation of six sigma easy. Once you have your certificate, you can work on organization-level problem solving and bring in workable solutions to the table.
 
Below are different levels of Six Sigma Certification and training programs.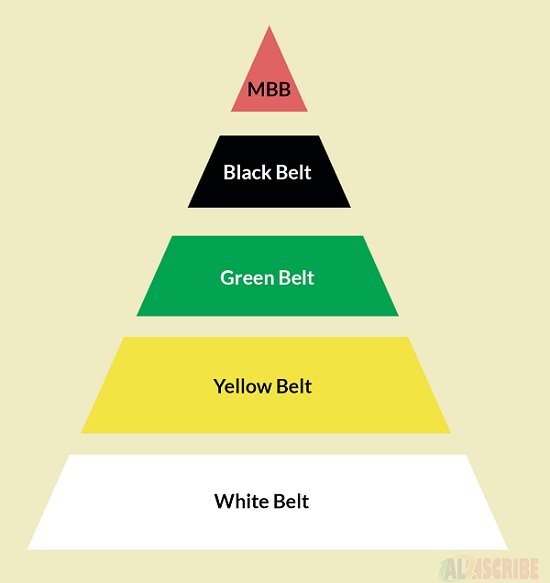 The white belt program
The Six Sigma white belt program provides you with knowledge of the fundamentals of Lean Six Sigma. As part of this program, you get to know how to improve business processes, understand the concept of variability, get to see how negatives affect process performances and realize that each team member has specific roles to play.
The yellow belt program
The Six Sigma yellow belt program usually has a duration of two days and as a participant, you are taught to comprehend fundamental methodologies of Six Sigma. This program covers some of the basic improvement processes and you also get to learn about the necessary metrics that drive improvements.
The green belt program
The Six Sigma green belt program teaches you how to create process maps, charts, and control mechanisms and implement Six Sigma within your organization. You will also use various statistical tests for process improvement, learn about the fabulous use Minitab and be able to define the scope of a Six Sigma project.
The black belt program
The Six Sigma black belt program is an advanced one where you get to learn to explain multiple regression and perform factorial experiments. You will also be taken through the process of determining size calculations for experiments and describing the multiple types of process optimization.
The master black belt program
The Six Sigma master black belt program provides you with the most advanced and focused approach to the Six Sigma methodology so that you can work on strategic and cultural organizational changes.

Kaizen events are initiatives to bring in operators, managers and process owners in one place and map the existing process. Most often a deployment flowchart is used to accomplish the task. The goal here is to improve the process that has a low sigma score. Such events help an organization to realize the full potential of the six sigma methodology. It ensures that there is no ambiguity among different stakeholders with respect to the outcome of the activities. When professionals of an organization receive Six Sigma certification they can be helped by professional facilitators to host such events.

Any Six Sigma professional has highly sought after. Organizations look for Six Sigma certified professionals because this methodology shows proven results in improving business processes. You can attend as a nominee from your organization or as an individual. You get to learn from the best experts in this domain and your eyes will open up to the enormous scope that Six Sigma has.


Institutes that organize Six Sigma certification ( https://www.6sigma.us/training-classes/six-sigma/ ) courses can be also contacted to host Kaizen events ( https://www.6sigma.us/lean-kaizen-event/ ) at your place.