E-commerce: the process of buying and selling things over internet.
E-commerce giant Amazon started their business by selling books and then due to demand and technological advancements, the business saw new heights. Starting from them many e-commerce giants have surfaced, made huge profits, saw peak of their sales mostly during Covid-19 and then some of these businesses flopped. There can be many reasons behind the unsuccessful completion of e-commerce businesses but one of the most apparent reasons are the lack of a more organized management system.
As mentioned before the demand of e-commerce has seen its all-time peak. Hence, in order to manage that demand, there needs to be a system that can support complicated tasks, such as invoicing, inventory management, data tracking, shipment tracking and so on. Incorporation of human effort is bound to bring some errors in the course of these complicated e-commerce business processes. However, when it comes to e-commerce, one mistake can lead towards a huge number of unsatisfied customers. Thus, it is crucial for the e-commerce companies to take a firm step for avoiding such occurrence. And this firm step translates to e-commerce ERP integration.
This article is dedicated to explaining the necessity, the benefits and the challenges that can be faced while opting for e-commerce ERP integration. So, keep reading this article and understand e-commerce ERP integration and the benefits that it brings.
Definition of e-commerce ERP integration
E-commerce ERP integration suggests the procedure of integrating customer data with four of the most critical components of the back-end system, which are accounting system, sales, marketing and inventor, via an ERP system. E-commerce ERP integration brings uniformity within the entire business process while promising a smaller number of data silos.
The e-commerce ERP integration works in three different ways, which are:
PaaS (Platform as a Service) integration: it is a cloud-based integration and is capable of connecting ERP systems with SaaS or other systems.
ESB (Enterprise Service Bus) integration: ESB is an older on-premises solution that is capable of translating between different types of software via connectors and adaptors.
Point-to-point: This is called point integration it establishes a direct connection between two software.
Necessity that persists behind e-commerce ERP integration
E-commerce businesses remain reluctant of implementing ERP in the course of their business processes due to the heavy cost that comes with it. However, that is one big mistake they make. The e-commerce ERP integration allows the business to be much more competent than before. It becomes much easier to keep track of customer data and eliminate some of the most common human errors from the process. Some of the common human errors include,
Incorporation of incorrect shipping address
Insufficient and inadequate product information
Inaccurate inventory quantities
Moreover, if you are implementing an ERP system that is upgraded enough then it will even transfer important information between departments while reducing the need of human incorporation. The implementation of an ERP systems make flow of data and information much smoother and seamless, which promises better agility in business. An ERP system stores data that your e-commerce business needs and organize that within a single interface.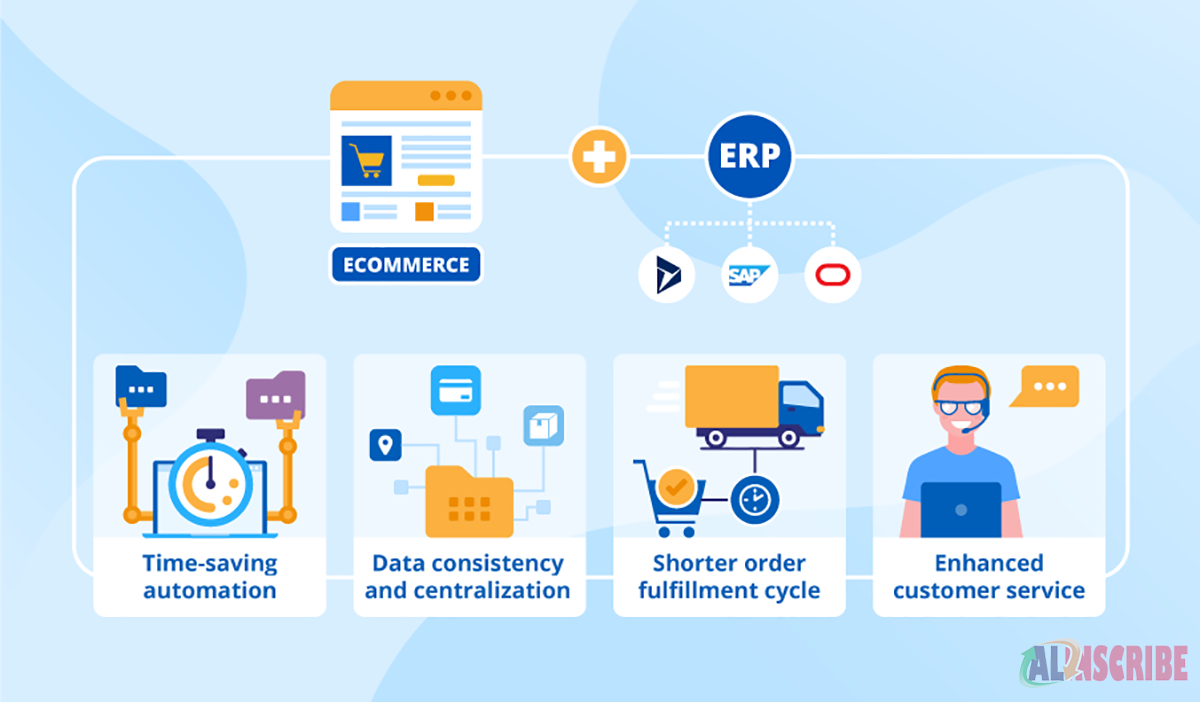 Challenges to be faced by e-commerce ERP integration
Implementation of an ERP system and integrating the same with an e-commerce platform is not at all an easy feature to achieve. The implementation and e-commerce ERP integration go beyond the mere exchange of data. Both of the systems being quite complex, the integration process is often met with a number of challenges. These challenges are needed to be mitigated in order to reach a successful completion of the integration process. However, most of the times the ecommerce companies fail to understand or misjudge the nature of challenges, which leads towards improper mitigation. This is why we have listed some of the most common challenges faced by the ecommerce companies in terms of e-commerce ERP integration. These challenges are listed below,
Intention of integration
Intention is the driving force behind this e-commerce ERP integration. And your intention needs to be clear enough. Make sure you expect quantitative outcomes rather than expecting the qualitative ones. You can target growth factors that you look forward to achieving with the help of the integration. With clear and crisp intention, you will be able to map out the road towards success even better and with more ease. On the other hand, lack of a proper intention can lead you towards disruption of the entire integration process.
Not enough understanding of the requirements
Mapping out the requirements are one of the most important tasks to complete before you start integrating your ecommerce platform with an ERP systems. Lack of clear understanding of the requirements can result in project delaying, increase in costs and efforts and incorrect applications. Understanding the requirements properly always leads towards successful integration. Upon understanding the requirements, you can discuss those with your ERP vendors, and they can suggest the best possible solution. A clear understanding also promises reduction in implementation time and cost, which is definitely beneficial for your e-commerce company.
Lack of study and testing
E-commerce ERP integration does not end with completion of implementation, in order to make the integration run smoothly, you need to make sure your technicians have studied and tested enough times. Without proper testing attempts, you will never get to understand where the bugs are and where things can go wrong as well as what can be the most appropriate solutions for each of the issues. Projects often run late due to the lack of testing. Testing properly will tell you whether the ERP system will work for your e-commerce website or not, if your business needs are being fulfilled or not, if the integration is providing suitable outcomes or not. And learning these things will help you to determine whether you can work with your current ERP system or you need to choose a different software for your business.
Insufficient training and support
ERP is a vast subject along with a number of areas associated with it. It is not at all easy to understand the course of ERP and start using it within a matter of few days. The users should be given adequate training for understanding how the e-commerce ERP integration is working and how to work with the same. Even when the integration turns out to be successful enough, the ultimate outcome depends on how the tools are being used. If the users use those tools without proper training, then the entire integration will result in becoming a bad investment. While, using the same tools with proper training and expertise can drive towards enhanced performance.
A long-term approach
This 21st century is all about rapid market changes. There is a new trend almost every other day. The ecommerce sites are always expected to keep up with the newest trends in order to gain customer satisfaction. Hence, when they are opting for e-commerce ERP integration, they need to make sure that their ERP system is flexible enough to keep up with the changing market trends. The ERP systems need to be implemented keeping consideration with the long-term approach of e-commerce. If you make requirements and implement the ERP system thinking only about the present situation, then it may end up being a failure all together.
These are some of the most common challenges faced by the ecommerce companies during the course of e-commerce ERP integration. However, the challenges are not limited here. The nature and type of challenges may vary based on the kind and size of your ecommerce company. Hence, make sure to understand the source of the problem, talk to the experts and then implement accurate solutions for gaining the most benefit out of it all.
Benefits to be gained by e-commerce ERP integration
Even through there are a number of challenges to be faced, there are even more benefits that can be gained via e-commerce ERP integration. By discussing these benefits, we will strengthen the ground of e-commerce ERP integration importance. However, you need to keep in mind that not all ERP systems work in the same process, which means not all the delivered benefits will have the same impacts on your business processes. Nevertheless, some of the most apparent benefits of this integration have been discussed in this section of the article, which are provided below,
Enhanced customer experience
Customers like to be thoroughly informed and updated during the entire sales process. However, keeping up with the real-time data and offering updates to the customers are not an easy task to be completed with manual effort. However, when you implement an ERP system and integrate that with your ecommerce website, it becomes easier than ever. Your ERP system automatically collect real-time data and provide that information to your customers. An instance of this workflow is shipment tracking. Your customers would like to know how far their packages have reached. But it is hardly possible to update shipment tracking system each day for numerous customers. In this scenario ERP systems do the work automatically. Those collect shipment details and update the tracking system so that the customers can see the movements of their packages.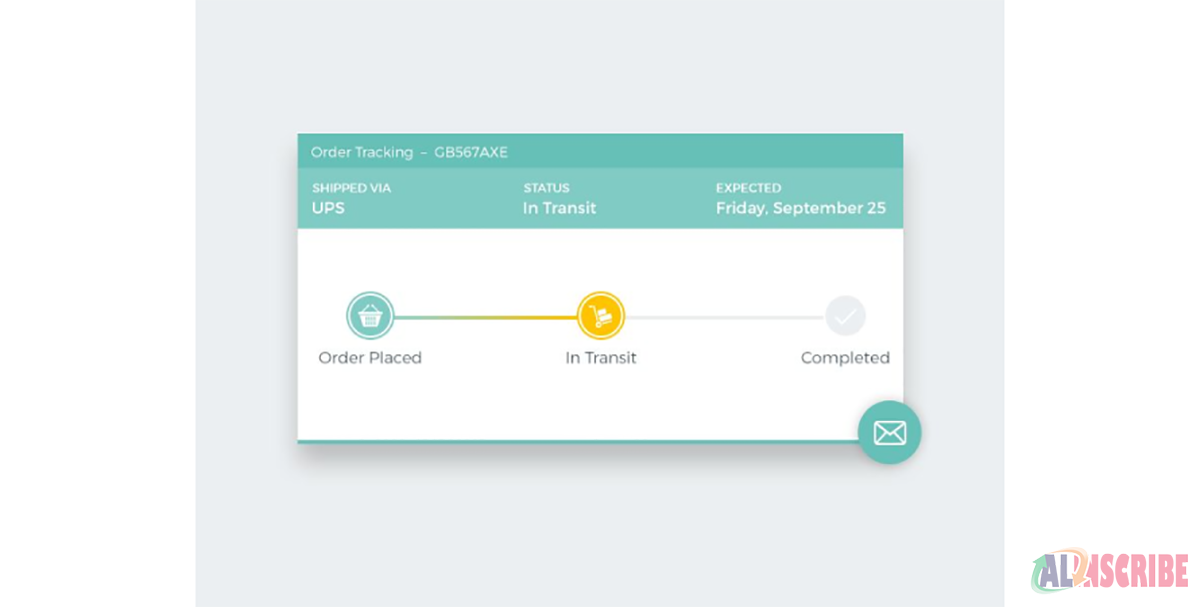 Reporting and financial statements
ERP systems come with an in-built financial management module. Hence, while integrated with an ERP system, it will easily offer you accounting reports and financial statements without very little to no human incorporation. You can easily monitor cash flows, check balance sheets, P/L statements and other important factors. Moreover, ERP reduces the chances of manual errors, which certainly result in a better and more systematic accounting system for the e-commerce company.
Reduced inventory cost
Inventory management is one of the many modules that are offered by an ERP system. With the help of the inventory module, you can easily track inventory from the purchase to sale of goods. It simplifies the process of ordering, storing and using company inventory with automated end-to-end production management. It also offers a focal data set as well as perspective for all the stocks and the capacity. Management of inventory is one of the most complicated tasks and it requires implementation of third-party systems for managing an inventory. However, ecommerce ERP integration offers an inbuilt inventory module, which reduces that required cost for a third-party inventory management system.
Better and enhanced productivity
Ecommerce ERP integration does not only impact customer experiences but also the experiences of the employees. ERP systems integrate the core business processes with each other and provide a streamlined solution to make the workflow smooth and better. This helps the employees in completing their tasks within time and with more efficiency. There are also less chances of errors, which certainly enhance the productivity of the employees and enhance the overall performance of the company.
Easy performance monitoring
ERP systems always provide accurate insights, graphs, Gantt charts etc. associated with a company. In the case of e-commerce ERP integration, ERP systems can offer an insight of product performance. You can easily gain an idea about the most and least popular products. You can track the issues of the products that are being returned or not being preferred by the customers and take proper measures.
There are many more benefits that can be acquired by integrating your ecommerce platform with an ERP systems. However, you need to make sure that you are choosing the ERP system that meets all of your business requirements accurately. Any mishaps in choosing the right ERP system for your business can end up showing terrible results.
Analysis of the gained benefits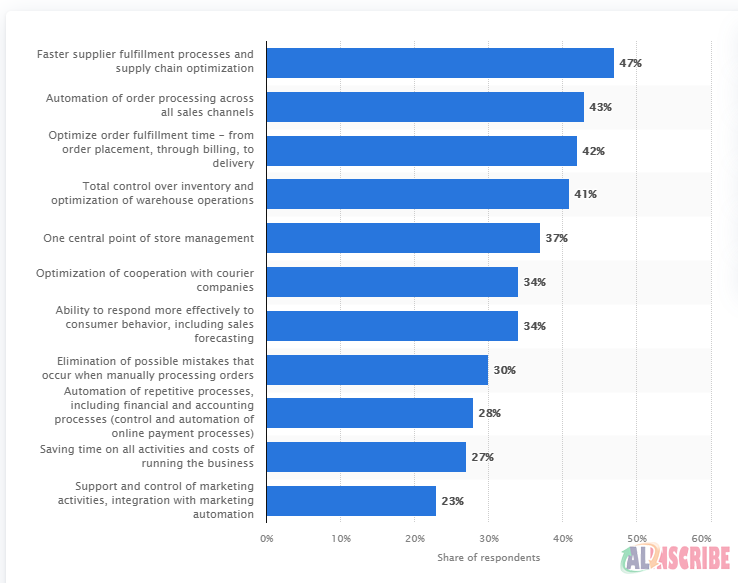 In the above section we presented some of the most important benefits to be acquired by e-commerce ERP integration. And in this section, we are trying to be more specific about the advantages that ERP integration with e-commerce system offers. The above picture depicts the results of a survey conducted among respondents who opted for e-commerce ERP integration. According to the survey results, 47% of the respondents agreed that ERP integration has enhanced supplier fulfillment process and optimized supply chain management. 43% of respondents agreed that ERP helps in order processing automation across all sales channel. And lastly, 23% of the respondents agreed on ERP systems' efficiency over marketing activities and marketing automation.
Conclusion
Thus, it is safe to say that e-commerce ERP integration helps is certainly something very crucial for business growth and business automation. ERP systems offer an all-in-one solution, which streamlines the core business processes and make work and information flow smoother. Hence, there is no doubt that e-commerce ERP integration can certainly make wonders when it comes to business growth and agility.