Manufacturing businesses are one of the industries that drive an economy towards growth. In an industry like manufacturing, efficiency and effectiveness is needed to complete the complex and complicated tasks, without having to leave any room for mistakes. However, it is easier said than done. For establishing an error free, efficient and growth-driven manufacturing management, a technically advanced and upgraded ERP system is required.
In this article, we will discuss the benefits that can be acquired by using ERP systems for managing manufacturing businesses. We will also go through the factors that make ERP systems a plausible choice for manufacturing businesses. Hence, keep reading this article to discover what is manufacturing ERP systems and how can it help.
What are manufacturing ERP systems?
Manufacturing ERP systems are a kind of ERP solutions, which are designed and developed keeping the complicated and complex business processes of a manufacturing business under consideration. The primary features of manufacturing ERP systems include inventory management, supply chain management, warehouse management, accounting and financial management and human resource management.
ERP systems started their journey of assisting manufacturers as MRP solutions. However, now manufacturing ERP systems are much more advanced and have included a number of crucial features that make manufacturing management smoother and easier.
Manufacturing ERP systems are capable of creating bills of materials, placing re-orders automatically and auto-updating stocks without having to wait for human incorporation. Manufacturing ERP systems also ensures that your financial data is recorded and stored within a safe and secure interface. All in all, you gain an automated, advanced and secure management system that ensures that your business is running smoothly and seamlessly.
Features that are required to be there in a manufacturing ERP systems
There are different kinds and types of ERP systems available in the market. Some of which are generic and can be customized based on your business requirements. On the other hand, some of these ERP systems are focused on a specific industry. Hence, while selecting manufacturing ERP systems for your business, you need to cross-check the features that are offered by the ERP vendors and choose the one that have all or most of the features to support the needs of your manufacturing business.
In this section of the article, we will discuss the most important features that are required within manufacturing ERP systems. The functionalities of each of the features will be discussed as well.
Supply chain management
Supply chain is an integrated part of manufacturing businesses. Without proper and systematic supply chain management, a manufacturing business can face several challenges. Hence, the manufacturing ERP systems require to possess an SCM feature to ensure undisrupted supply of raw materials. Manufacturing ERP systems establish visibility and draws a map to easily monitor suppliers' performance. These solutions are capable of collecting data from both internal and external sources, which leads towards seamless supply chain planning and execution.
Inventory management
Managing inventory comes with a significant number of detailed tasks to be careful about. Small but critical tasks such as MRO (Maintenance, Repair, and Operations) and keeping a record of equipment spares need to be completed, leaving absolutely no error behind. With the help of manufacturing ERP systems, you get to establish a centralized resource for tracking inventory. It also helps in analyzing data and replenishing strategies.
Equipment performance tracking
No matter how trivial it sounds, equipment performance tracking is one of the most important factors to monitor when it comes to a manufacturing business. Lack of proper performance tracking can end up in using faulty equipment for production. Equipment breakdown can increase expenses as well as can be very time-consuming. Thus, your manufacturing ERP systems need to possess an equipment performance tracking feature for storing, tracking and analyzing performance of equipment. It also collects, stores and maintenance all equipment related data while making it accessible to every important individual.
Quality assurance
Assuring the quality of your manufactured products is certainly important to ensure the customers do not receive faulty or bad products. Manufacturing ERP systems with QA management can track quality assurance results. Those can also create data stores that can be helpful in recognizing loop-holes and identifying maintenance related requirements.
Streamlined maintenance
Manufacturing ERP systems that offer streamlined manufacturing solutions can bring several growth factors within the course of a manufacturing business. The centralized workflow system that is established by manufacturing ERP systems, centralized scheduling, work order management, ticketing etc. A streamlined data tracking and analysis system allow the organizations to be more agile and flexible.
Purchasing management
Manufacturing ERP systems with an integrated purchasing management offer an organized and streamlined purchasing and requisition management module for establishing better visibility. It also allows the users to keep an eye on the lesser known areas of the business.
Human resource management
Managing a business comes hand in hand with managing the workforce. And managing a workforce accurately is only possible when you implement a system to support your company's human resource. Manufacturing ERP systems and HR management integration makes it easy for the HR managers to review the performance of employees, track their goals easily, keeping an eye on the expenses made by them and managing their leaves.
Accounting and financial management
Accounting and financial management is another crucial aspect to manage accurately when it comes to manufacturing businesses. Almost all of the manufacturing ERP systems have an inbuilt accounting and financial management feature to support managing finances seamlessly without any errors.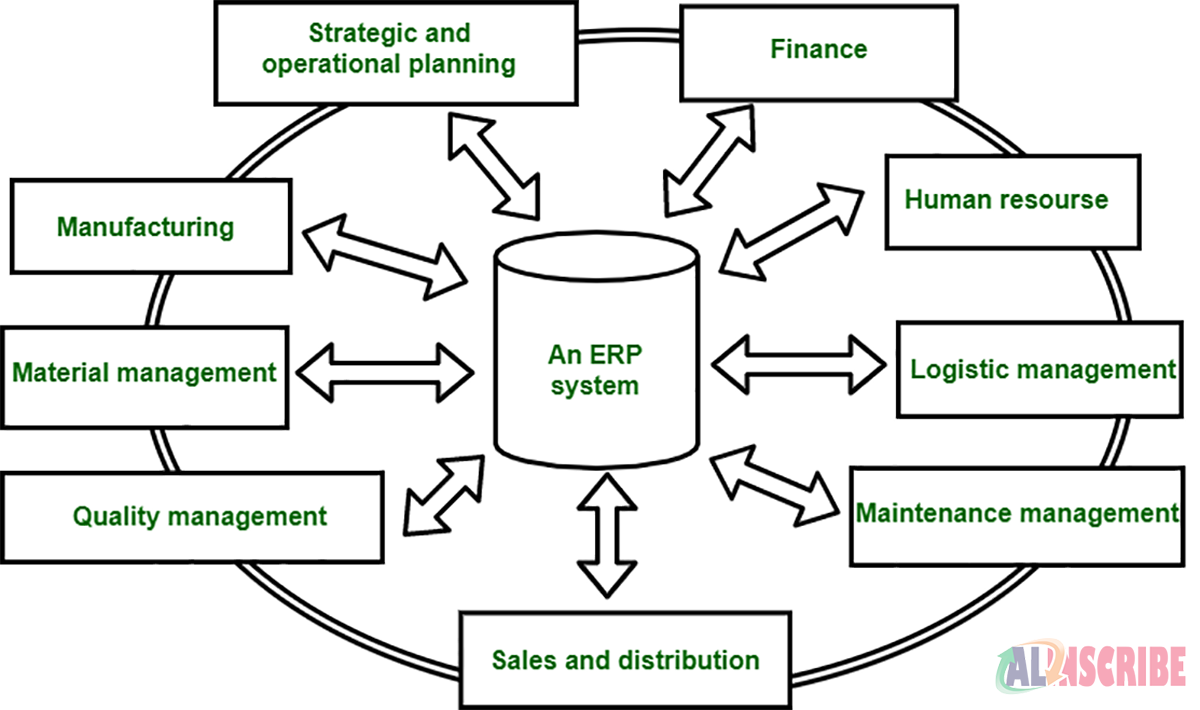 Benefits to be acquired by implementing manufacturing ERP systems
Implementation of a manufacturing ERP systems is considered as one of the most important and profitable decisions to be made by a company. As manufacturing companies are bound to face stiff competition and changing market trends, manufacturing ERP systems act as a tool to help them in responding to the challenges in a faster and easier manner.
Nevertheless, there are many more benefits that can be gathered by using a manufacturing ERP systems for enhancing the performance of a manufacturing business. Some of the most obvious benefits are discussed below.
Availability of real-time data
Gaining access to real-time business related data is one of the most important factors to drive your business towards growth and success. Implementing a manufacturing ERP systems can help you in receiving access to all business related information with just a few clicks. The users can seamlessly monitor all key business information, which can be crucial for driving towards more informative decision making process. And if the manufacturing ERP systems are cloud based then, these information can be accessed from anywhere at anytime possible.
Finer communication
Communication is the key of solving most of the conflicts and communication is what drives towards error-free production in the course of a manufacturing business. Manufacturing ERP systems work as a gateway for the manufacturers to stay connected with the suppliers and vendors. The users get to store supplier's contact information within one interface. With better communication the companies get to establish a more transparent relationship with the suppliers, vendors and distributors, which certainly leads towards business growth.
Advanced accounting
Manufacturing ERP systems come with inbuilt accounting modules, which allows the users to record all financial database at one place. They can access all finance and accounting related data easily with just a few clicks, which makes the entire process less disruptive. There is no need of integrating a third-party accounting application and pay extra for that. Manufacturing ERP systems offers all of it as a part of its service and allows the company to be more strategic with improved accuracy and real-time insights.
Inventory management and tracking
With manufacturing ERP systems, you achieve control over several inventory components. These components can include demand-planning and execution, production schedule, maintaining a strong co-ordination among all the distribution channels, monitoring if the deliveries are being made on-time or not etc. Manufacturing ERP systems are capable of managing the inventory when it comes to mass production, without leaving any loop-hole. These also record all the characteristics, numbers and locations related to the inventory.
Some of the advanced manufacturing ERP systems can automate traceability and tracking abilities. Those also offer a swift product recall process, which saves both time and expenses. By signifying the necessary amount of product to be stocked, manufacturing ERP systems resist over-stocking and reduces inventory expenses.
Controlling production as per requirements
Production schedule is one of the primary features of manufacturing ERP systems. With the help of this feature the users can fulfil customers' orders within time while keeping consideration of the quantities, dates and specific required configurations. Some of the advanced manufacturing ERP systems come with MRP (Material Requirement Planning) module, which can store bills of material data as well as inventory data. MPS feature of the ERP systems are capable of calculating the required amounts of materials and then create purchase orders based on those. It helps in promoting a transparent workflow within the organization while making manufacturing process more agile than ever.
Automation of business processes
Manufacturing ERP systems are meant for automating business processes for enhancing the work and information flow within a manufacturing company. There are several tasks, such as re-ordering raw materials, updating stocks, receiving payments and so on, can be easily automated with the help of manufacturing ERP systems. These system also enhances the automation by placing the processes into a useful format and making it easily understandable by the entire employee-base of the organization. Automation brings in more flexibility and agility and allows the company to respond faster to changing business atmosphere.
Never-before customer satisfaction
Customer satisfaction is the bench-mark of an organization. If customers are not satisfied with your offered products and services, then you need to recognize and rectify the mistakes within your business processes. Manufacturing ERP systems run quality checks for purchased materials in order to match customer requirements efficiently. These systems also play a huge role in scheduling deliveries and sending alert in there is a delay. The ticketing system is an appropriate solution for addressing customers' queries and suggesting them with resolve. All in all, manufacturing ERP systems are capable of assisting you in providing your customers with their needed assistance.
These are the most common as well as prominent benefits that you get to experience while you choose the right manufacturing ERP systems for you. Please note that there are a number of challenges that can be faced while implementing ERP software within your company. You need to overcome those challenges in order to gain the benefits that can change the way you manage your manufacturing business.
If you own a small business and you are looking for the best software for your manufacturing business, then check out our article on Top 10 Best Manufacturing ERP Software For Your Small Business.
Conclusion
Just as any other implementation process, the process of implementing ERP systems in manufacturing companies are bound to face some challenges. Some of these challenges can include the cost of implementation, concerns of data quality, level of customization available, user adoption and many more. It is crucial for the companies to map out accurate strategies to combat the challenges and acquire as many benefits as possible.
It can be concluded by stating that manufacturing ERP systems are certainly a very good idea if you know how to put those into good use. And these systems are capable of returning to you tenfold of your investment.