Business Intelligence has become quite popular of a topic in recent times and its usefulness while being integrated with an ERP system is certainly one of the hot topics. So, what is business intelligence and how does it help in enhancing the abilities of an ERP system? Answering this question is the topic of this article. In this article we will learn about the concept of BI, its benefits and the integration of business intelligence in ERP systems. So, keep reading this article to know it all.
What are the components of Business Intelligence?
As has been stated before, business intelligence is a set of tools and infrastructure that is capable of enhancing the decision making process and the other elements of an ERP system when it is integrated. Hence, there are some of the components that are absolutely necessary in the course of business intelligence. These components are mentioned below,
Data collection and integration
There are two types of data collection and integration sources associated with Business Intelligence. The first one is data sources, such as databases, API and more. The second one if ETL tools, such as Talend, SSIS etc.
Data warehousing
There are two types of data warehousing tools, which are data warehouse and data modeling tools. Microsoft Azure Synapse Analytics and snowflake are examples of data warehouse tools. SAP PowerDesigner, ER/Studio and ERwin Data Modeler are examples of data modeling tools.
Analyzing and Reporting
There are three types of tools to be associated with data analyzing and reporting. These tools are data visualization tools, such as QlikView, Tableau and Power BI. Statistical analysis tools, such as Python, IBM SPSS, and more. Machine learning tools, such as scikit-learn, Amazon SageMaker and TensorFlow.
Business performance management
There are two types of business performance management tools to be associated with BI. The first one is KPI monitoring tools, such as SAP Analytics Cloud, Google Analytics and more. The second one is budgeting and forecasting tools, Adaptive Insights, Anaplan and more.
Leveraging these components with the existing ERP systems can bring positive changes in the course of business while improving the decision making process significantly.
How does Business Intelligence in ERP integration work?
It is undoubtedly true that integration of Business Intelligence in ERP systems can be hugely beneficial for most companies. However, prior to integration, the businesses need to recognize the areas in which BI can be integrated and pull out an extraordinary outcome. Thus, understanding these area, while keeping consideration of your business needs, is an important factor. In order to help you out with the recognition process we have listed some areas for you to understand it all better. These areas are presented below,
Data integration
When you integrate Business Intelligence in ERP you can start real-time data transfer. By opting for real-time data transfer, you can make sure that the transferred data is up-to-date. It certainly helps your company to be more informed about the industry, your customers and other important aspects.
Data analysis
Analyzing data stored in the ERP systems, with the help of BI systems can help in understanding the patterns and make better business decisions. You will be able to optimize your business operations and meet all the requirements of your customers.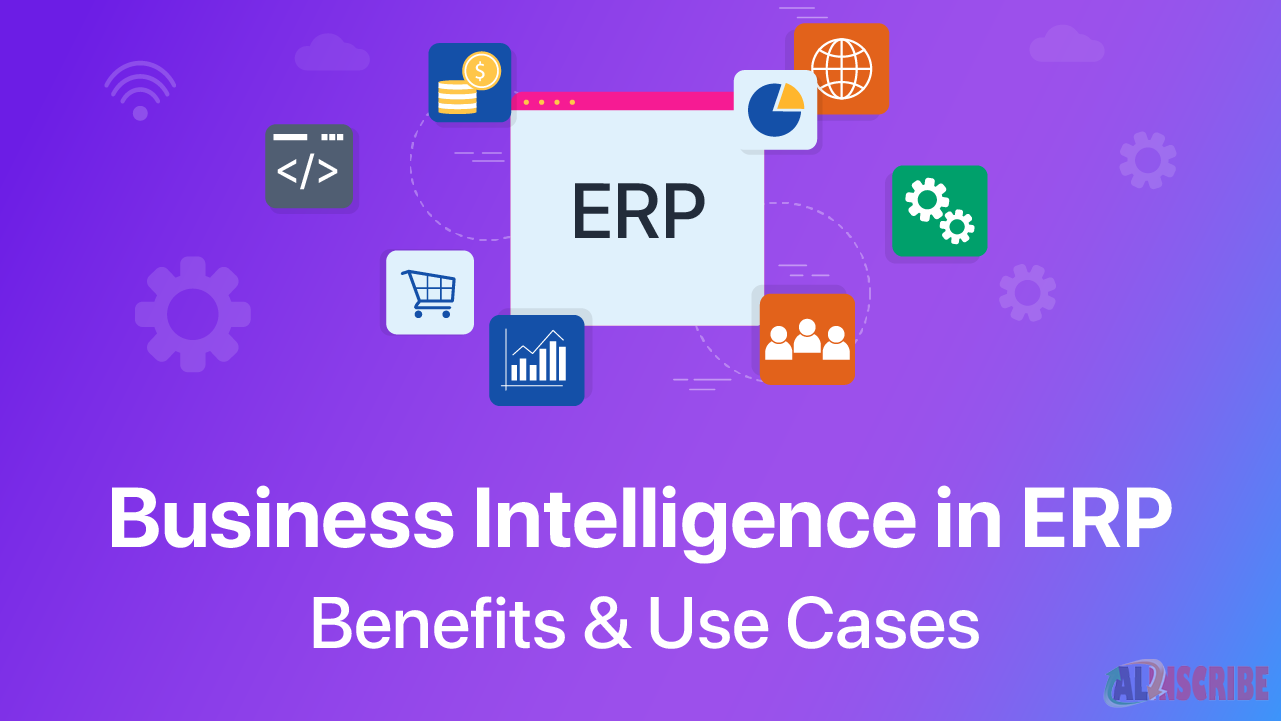 Reporting
Reporting through ERP systems has already reduced the number of manual errors, making the reporting process much smoother than ever before. However, integrating Business Intelligence in ERP systems will allow the creation of custom reports while pulling data directly from ERP system. The reports will be more detailed and enriched with information, which will certainly be good for business.
Creation of dashboard
With the help of BI, dashboards can be created very easily. BI can easily extract data from the ERP systems and create a dashboard enriched with real-time data of business operations.
Forecasting
Data forecast can be created with the help of Business Intelligence in ERP integration as well. It can help in crafting a strong business plan for future business endeavors.
What are the differences between Business intelligence and ERP?
The differences that persist between BI and ERP systems are quite prominent. Even through there are some of the areas that end up overlapping in the course of these systems but these two have different strengths. ERP system is a unified process management system that manages several business related tasks, such as financial management, supply chain management, project management, human resource management and more. On the other hand, BI enhances the data management system. It helps businesses in organizing their data in better and systematic manner. It also analyzes data while contextualizing information for helping the company to gain a better insight of the actions that need to be taken.
ERP and BI supports different kind of decision making. While ERP adds most of its value in the operational tasks, BI helps companies in analyzing performance metrics in a better and a more organized manner. In the case of ROI and digital marketing strategies, BI helps better. It can drive improvements while saving time and costs. Thus, there is no doubt about the benefits that can be achieved with the integration of BI and ERP systems.
How did BI and ERP systems evolve?
The very first specimen of ERP was introduced back in the year of 1960s. The system evolved in the form of material requirements planning systems. By 1980s these systems improved more and started being used as manufacturing resource systems. Gradually the ERP systems took the shape of a unified business management tool and paved the way of modern day cloud-based ERP systems.
As for BI, the trajectory of this system is quite similar to ERP systems. The roots runs back in 1960s in the form of decision-support system. Then the system kept on developing in the 1980s. However, the system first started to be adopted as an on-premises solution in 1990s. And it has been even fewer years since vendors have been offering BI as a cloud solution.
Now that both of the systems have evolved enough, BI and ERP systems are now integrated in the cloud, and it enhances the overall performance of both of the systems. Integrating the systems in cloud eliminates the hustle of hosting as well as the expenses that are needed for maintaining on-premises infrastructure. Moreover, cloud integration allows real-time integration resulting in smarter decision-making processes.
Integrating Business Intelligence in ERP
Management of data and implementation of proper decision-making have been two of the most crucial aspects of any business. However, analyzing and organizing this huge amount of data in both structured and unstructured manner. In this scenario, integrating Business Intelligence in ERP helps in consolidating data points into actionable insights and enhances the performance of an organization. Hence, if you own a business that looks forward to developing with time and advancement of technology then integrating BI with your ERP systems can be one of the best decision that you ever make for your business. BI's ability of spotting trends and shifts in the industry will certainly help you in choosing the right options and bringing necessary changes in your business. It can also prove to become one of your best competitive advantages that instigates in taking a step ahead in this digital economy.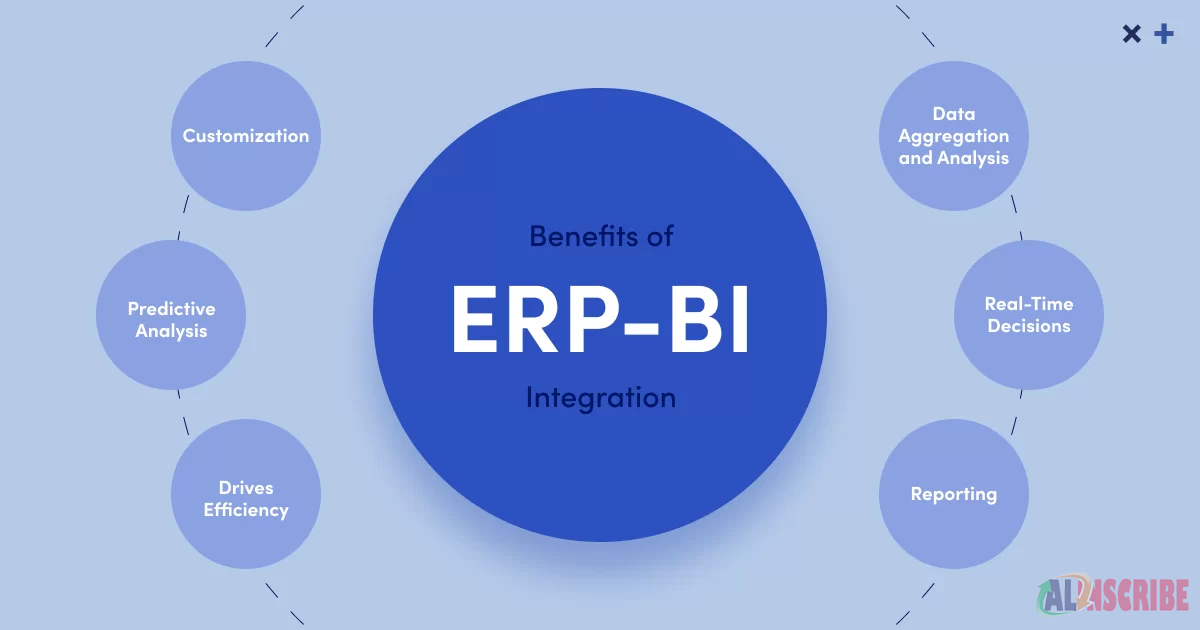 Benefits to be associated with Business Intelligence in ERP integration
When you integrate Business Intelligence in ERP benefits become one of the common factors to be achieved through the completion of the process. Some of the benefits that you can gain with the help of this process are mentioned below,
Possible customization
It is easier to customize an ERP system upon performing BI and ERP integration. If your company's stakeholders have their own requirements regarding data analysis, expectations and other possible necessities, then integrating your ERP system with BI can enhance their overall customization experience. You can easily produce customized reports and dashboards with ERP- BI integration.
Analyzing and collecting data
As ERP systems usually produce raw data, that too, of huge amount. The value that can be extracted from the data. It is easier for businesses to gain a comprehensive insight based on the type and nature of data when the ERP system is integrated with Business intelligence.
Real-time decision making
Real-time analytics drive towards a better decision making process. In this era of competition, businesses need to be more and more predictive to gain some effective competitive advantage. And this power of prediction can be gained with the help of BI and ERP integration.
Enhanced efficiency
BI integration with ERP enhances agility and speed, which ultimately results in better performance of the company. Therefore, integrating ERP system with BI certainly helps in providing the company with a better and smoother performance.
Comprehensive insights
Evaluating performance is one of the most important tasks to be completed by a company. This evaluation of performance, as an individual task, takes up a lot of time and effort, which can prove to be a set-back in the course of a company's performance margin. However, when the ERP system is integrated with BI, performance is automatically evaluated resulting in saving a good amount of time and effort.
Better reporting
Creating reports is an integrated part of data processing. There are a number of features that are associated with it. These features can include filtering data, sorting data and drilling data down. Moreover, users may require some features in order to personalize their data even more. In this scenario, reporting can be improved severely with the help of BI. BI offers better use of datasets with an in-depth study, which enhances the entire report generation process much more effectively than ever before.
Less expenses
Without a doubt, it can be quite costly to implement BI and integrate that with the ERP systems. However, upon the completion of integration, it is possible to reduce operation costs that burdens a company up. Therefore, Business Intelligence in ERP integration works like a one-time investment, which helps in reducing costs later on.
Few risks
BI reporting tools can be a great help in reducing the amount of potential risks that can be faced by a company. As BI provides real-time and accurate reports the chances of risks reduces gradually.
Thus, the benefits that Business Intelligence in ERP can bring in the course of a company, are not something that can be overlooked easily. There might be few challenges to come in the way but there are also some practices to mitigate all of those, so that integration of BI and ERP bring only positive and successful changes to the course of a company.
Conclusion
It is inevitable not to entangle ERP and BI technology as the advancement of either one of these see new heights. ERP's performance depends on decision-making a lot, and BI offers the best decision-making with the help of real-time data analysis. Therefore, in future, a day may come when imaging ERP systems without BI will be impossible. As discussed previously, there are a number of benefits that can be gained upon integrating Business Intelligence in ERP. Hence, there is hardly any downside of this integration, rather BI and ERP integration can be a competitive advantage for most of the companies.