Without any doubt, human resource management is one of the most important departments of any company. It plays a significant role in the growth and success of a company. There is a wide range of activities associated with the HR department, which ensure the successful management of the human capital of an organization.
All of the above-mentioned activities are factors to generate a vast amount of data, again, managing which is the responsibility of the HR department. However, it is not as easy as it sounds. Organizing and storing a huge amount of data requires it to be done efficiently, without having to be infested with any error, which can only be done with the help of an ERP system.
What is ERP in human resource management?
ERP, Enterprise Resource Planning, is a software solution that ensures automation of different business processes including HR activities. ERP in human resource management eliminates the need for traditional methods, which include managing different activities by using disparate systems and manual methods.
Implementation of ERP in human resource management cuts down on data inaccuracies and inefficiency and establishes centralized and more uniform management within the HR department.
ERP in human resource management offers a set of advanced and comprehensive tools that can be tailored to meet the specific requirements of a business. The ERP systems are capable of managing every employee-related information, such as personal information, performance records, employment history, training and development records, benefit information, and so on. Centralized management of all of this information makes it easy for HR managers to access the records with just a few clicks.
Moreover, ERP in human resource management offers integration with third-party applications making it easy to interconnect departments and establish a smooth flow of work and information. Thus, ERP systems can bring more effectiveness when they are implemented in the HR department.
Market share of HR technology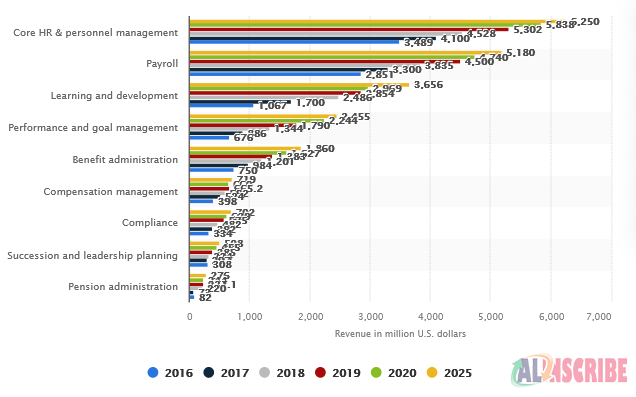 The above picture depicts the market share of HR technologies along with the generated revenue in US dollars. According to Statista, Core HR and personnel management tools are the ones to have the most demand in the market. The demand has seen constant growth over the years. Core HR management is closely followed by payroll management. After payroll management, we have learning and development management, which is followed by performance and goal management. Benefit management, compensation management, compliance, succession and leadership management, and pension management are on the list as well.
The core HR and personnel management tools are estimated to generate $6,250 billion by the end of 2025, which signifies a great opportunity for both vendors and consumers.
The importance of ERP in human resource management
As has been stated previously, the HR department is one of the most important driving forces of an organization. Hence, there should be no errors in the course of HR management. Along with eliminating errors and issues, ERP in human resource management enhances the flexibility of the entire department. But that is not all. There are a number of other aspects that make ERP systems an important addition to the HR department. These aspects are provided below,
Establishment of a centralized database
When an organization applies traditional methods for their employee management, they have their employee data scattered all around the place. Some of the data are recorded in various systems, and some are recorded in physical documents, which tend to be disorganized. Disorganized data often end up being lost, causing the company a significant amount of loss.
ERP in human resource management solves this issue. Implementation of an ERP solution establishes a centralized database, which contains each and every employee record. Moreover, ERP solutions are easily accessible by anyone with the right permissions. Hence, HR managers can seamlessly access employee data from anywhere they want.
Additionally, the implementation of an ERP solution and centralization of the database promotes confidentiality and data security. Since centralized databases have a single access point, it becomes easier to protect sensitive data. If there is role-based access control, then only authorized staff can be permitted to access certain information. In this way, the risk of data breaches decreases significantly.
Digitalized recruitment process
The recruitment process can be lengthy and complicated, thus automating the same is the only way of optimizing the performance and the results. Implementation of an ERP in human resource management brings automation to the process. Moreover, some ERP systems offer a dedicated recruitment tool that streamlines the entire process from the start to the end eliminating the possibility of errors effectively.
HR staff are allowed to create and publish job posts via the ERP solutions across various job portals. Information of the candidates who apply for the positions gets automatically recorded by the ERP systems. The HR managers get to access every piece of information without having to access a different system, which certainly is less time-consuming and more effective.
With the help of ERP in human resource management, efficient interview management can be achieved as well. The HR managers get to schedule interviews, provide feedback, and evaluate the performance of the interviewees. The entire interview process becomes smooth and organized ensuring very little to no error as a bonus.
Enhancement of training and development
ERP in human resource management often offers a separate training and development module, which allows the employees to access a catalog of training programs that are available within the organization. The employees can easily enroll themselves and take charge of their training and development through the ERP systems.
On the other hand, HR managers can view the enrolled employees, create training programs, upload training materials, and evaluate the trained employees through the same interface. ERP in human resource management makes it easier to align the training initiatives with the overall strategic goals of the company.
ERP systems automate the administrative management of training programs, which makes the training and development factor a lot less time-consuming and a lot more efficient than ever before. The risk of errors in record-keeping is also reduced with the implementation of ERP in human resource management.
Better time management
ERP in human resource management also works as a tool to record employee clock-ins and clock-outs. Employees are offered the flexibility of recording their time within the ERP systems by themselves. The information is directly stored within a specific folder of the ERP systems and can be accessed by the authorized staff. This eliminates the requirement of manual timesheets, which is certainly a positive take on digitalization.
The accuracy of recording work hours is improved with the help of an ERP solution. This also reduces errors, fraudulent time entries, and buddy punching establishing fairness and accountability within the company.
Time-tracking also offers real-time visibility within the course of employee attendance and work hours. With the right module, HR managers can monitor employee attendance, absences, and overtime. Additionally, the need for manual calculation gets deducted with the help of this process.
Regulatory compliance
Ensuring compliance with laws and regulations is one of the primary works to be done by the HR department. ERP in human resource management has specialized functionalities to support regulatory compliance. It offers tools and capabilities that help in meeting legal obligations while mitigating potential risks and maintaining a successful HR atmosphere.
Companies can easily define and enforce their compliance policies and procedures. You can use it as a repository of documents to store all the legal requirements and guides for making it easily accessible to the HR staff. You can also manage compliance with labor regulations and employee rules through one interface without having to rely on a third-party application to do that same for you.
Some of the advanced ERP in human resource management are capable of calculating and monitoring adherence to regulations while alerting and notifying you when you are at the threshold of exhaustion.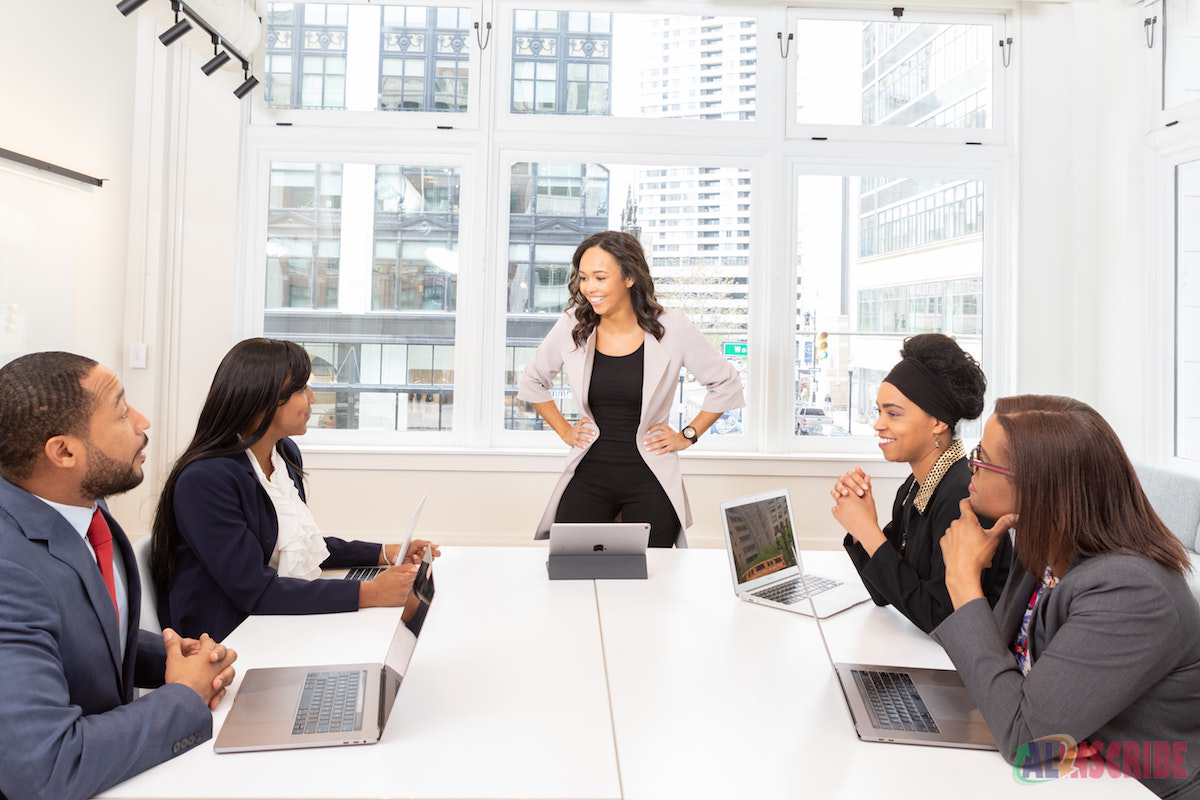 Benefits of ERP in human resource management
In this section of the article, we will discuss the benefits that can be acquired by implementing ERP in human resource management. These are some of the most common benefits that have been perceived among the companies that have embraced ERP systems for their HR department. These benefits are presented below,
No error
One of the biggest benefits that you can claim by implementing ERP in human resource management is the elimination of errors. Manual processes often result in several errors as human beings tend to make mistakes. However, technical tools can efficiently reduce and eliminate errors in a record time.
HR department deals with a huge amount of data, which cannot be exposed to any kind of mistakes. Implementation of an ERP in human resource management allows users to reduce errors by automating complicated processes.
Increased efficiency
ERP in human resource management establishes automation of several HR activities and processes, making those less time-consuming. In this way, the HR managers can concentrate on the tasks that require their focus. ERP in human resource management also works as a centralized database system, making it easy for the HR staff to access any information at any time they need without having to go through tons of paperwork.
The workflow automation that ERP systems provide is another major benefit that can be claimed easily. These solutions are capable of automating approval processes such as leave requests and expense reimbursements, which are accessible by both employee and HR managers' end. This ensures a smooth flow of information within departments resulting in increased efficiency and better performance.
Payroll management
Everything related to payroll can be managed within the one interface of the ERP in human resource management. HR managers can view and manage every payroll detail, bonuses, allowances, deductions, salary, and so on. There is no need for manual data collection and incorporation, which saves a lot of time and effort. Moreover, the ERP systems are capable of calculating the overall pay by monitoring all the leaves and deductions. The HR managers can pay the employees by clicking a button only.
Performance tracking
A consistent performance management framework is often offered by the ERP in human resource management. HR staff can define goals and aims with the help of these ERP solutions without facing many issues. The ERP solutions also suggest certain KIPs that help in tracking and monitoring the performance of the employees. Hence, these systems certainly make it easy to determine how the employees are performing based on the certain goals they have been assigned. The HR staff can provide them with performance bonuses, and feedback whenever that is needed.
Employee welfare
HR managers can boost employee welfare by implementing ERP in human resource management. HR ERP systems often allow the employees to file complaints against any inconvenience they are facing within the company, without having to make it visible to a lot of people. Only the HR managers can access the complaints and take measured steps. In this way, the employees are assured of a positive working atmosphere and a learning environment to work in. A positive atmosphere seamlessly drives towards enhanced performance of an organization.
Conclusion
In conclusion, it can be stated that the HR department requires proper management otherwise the company can run some of the major issues. Understanding the requirements of your company's HR department and implementing the right HR management software is one of the most comprehensive solutions to stay out of any issues. And if you want to gain some insight regarding the 10 best HR ERP systems then make sure to check out our Top 10 Human Resource ERP Systems For Small Business.