The course of a healthcare business is divided into two different parts, which are medical supplies & services and pharmaceuticals, biotechnology and services. Both of these areas perfectly balance each other in order to keep the system running smoothly.
However, just as any other sector, healthcare industry faces several challenges in the course of managing the operations. These challenges require a quite and accurate outcome to keep a healthcare company going and growing. While some of these challenges are short lived and not so significant, others are severe enough to create an imbalance within the company.
Outcoming these severe challenges are only possible when these healthcare organizations accept the helping hands of technical tools, naming healthcare ERP systems. ERP solutions that are exclusively designed for healthcare companies are capable of managing all the operations that take place within a healthcare organization.
In this article we will discuss about healthcare ERP systems and the features that should be presented in them. There are also the description of the benefits and the challenges that are respectively acquired and faced by the healthcare organization.
What are healthcare ERP systems
ERP, Enterprise Resource Planning, systems are a kind of software solution that helps in administrating different kinds of corporate activities, which may include accounting, projects, risk management, human resource, planning and scheduling, reporting and analyzing and many more.
Healthcare ERP systems are the kind of ERP solutions that are mainly designed for healthcare companies. With the help of an ERP system the healthcare companies can easily streamline their operations, manage patient information in a better and more organized manner, take care of supply chain without having to face many issues and keep maintain industry compliances while keeping all the necessary ideas under consideration.
The number of healthcare companies to have proceeded with the implementation of ERP systems have gone up by a significant number. Because of the invasion of Covid-19, it was important to implement relevant technical tools that can help in enhancing the entire process while producing results quickly and effortlessly.
Healthcare ERP systems offer powerful patient management options, which not only automate the entire process but also decrease the amount of errors and manual effort. Healthcare ERP systems are capable of breaking down data silos while automating most of the activities performed in a healthcare organization, which makes it one of the best solutions to be adapted for digitizing and automating core business processes.
Type of ERP systems that are used in healthcare industry
Healthcare organizations are not only about offering medical care to the patients. There are some unique procedures, such as laboratory testing, which require some unique functionalities. Not every ERP system are capable of offering these type of unique functionalities. This is why there are mainly six different types of healthcare ERP systems that are used by the healthcare organizations, which are discussed below.
Hospital Management Systems (HMS)
HMS, Hospital Management System, is a software solution that is designed comprehensively for managing every operation that is undertaken in a hospital. Some of the primary features to be associated with an HMS are patient management, appointment scheduling, financial reporting, billing, pharmacy management and many more.
Clinical Information System (CIS)
Clinical Information System, CIS, is designed to manage the clinical data and the patients' medical records. The implementation of a CIS makes it easy to access patient information while keeping those secure under one interface. These systems are capable of storing demographic information, medical history, lab results and image studies of the patients within one interface. This makes it easy for the clinical staff to access accurate patient information with just a few clicks.
Laboratory Information System (LIS)
LIS, Laboratory Information System, is a type of healthcare ERP systems which is specialized for managing clinical and medical laboratories. LIS effortlessly automates laboratory processes, enhances smooth workflow and increase the efficiency of the entire laboratory. The primary aim of an LIS is to store test results securely, reduce errors and speed up the process of test result data collection.
Radiology Information System (RIS)
Just as the name suggests, a RIS, Radiology Information System, is used for managing and streamlining the entire workflow of the radiology department of a healthcare organization. A RIS is capable of scheduling, patient registration, image storing and reporting. It can be easily integrated with other healthcare ERP systems and work in sync in order to offer the entire organization more agility and flexibility. It also reduces the risks of manual error and mismatched information.
Electronic health record system (EHR)
Electronic health record system helps the healthcare professionals to manage digital medical records while eliminating the hustle of pens and papers. With the help of an EHR system you can gain a 360 degree view of the patient records. It can also integrate information from different sources, which saves a lot of time and effort of healthcare professionals.
Supply chain management (SCM)
Supply chain management system is one of the most important part of any kind of ERP system. For healthcare businesses, SCM is associated with managing the purchase, stock and inventory of pharmaceutical products, equipment and many more. Implementation of a SCM enhances the relation between the healthcare organization and its supply channels. Those also keep track of the stock usage and issue an alert when the stock is nearing its end. Thus, without any doubt SCM is one of the most important kind of healthcare ERP systems when it comes to healthcare organizations.
What are the essential features of healthcare ERP systems
There are a great number of ERP systems to be available in the markets. However, not all of those are suitable for healthcare industry. In order to satisfy the needs of a healthcare organization, the ERP systems must have some specific features. It is important to learn about these features first for understanding the course of healthcare ERP systems better. The essential features for healthcare ERP systems are explained below.
1. Patient Information Management
Comprehensive patient information management feature is a must have for all the healthcare ERP systems. Patient information management feature allows the healthcare professionals to incorporate, store, organize and manage all the patient related data in one interface. They can easily access the needed information by opening the required module. This feature offers to store the demographic information of the patients along with their medical reports and contact information. Easy and quick access to all kind of patient related data allow the professionals to make more informed decision regarding patient care and treatment.
2. Financial management and billing
Medical billing is no less important than patient information management. Thus, every healthcare ERP system requires to possess an accurate financial management and billing feature for an error-free medical billing. With the help of this feature the healthcare professionals can process bills seamlessly, manage patient invoicing, promote an error-free insurance claim processing along with payment management. This feature should also be capable of integrating with third-party accounting and billing software to enhance the agility of the entire procedure.
3. Supply chain management
As stated before, supply chain management is one of the most important feature to be presented in healthcare ERP systems. It is crucial for healthcare organizations to keep track of their medical supplies and stock for avoiding hazards during emergency situations. Supply chain management also helps in controlling costs, streamlining procurement process, maintaining a good relationship with the suppliers, tracking orders, managing vendors, minimizing waste, forecasting demands etc. Healthcare organizations can barely function without proper supply chain management, which makes it important for the healthcare ERP systems to include SCM as one of the primary modules.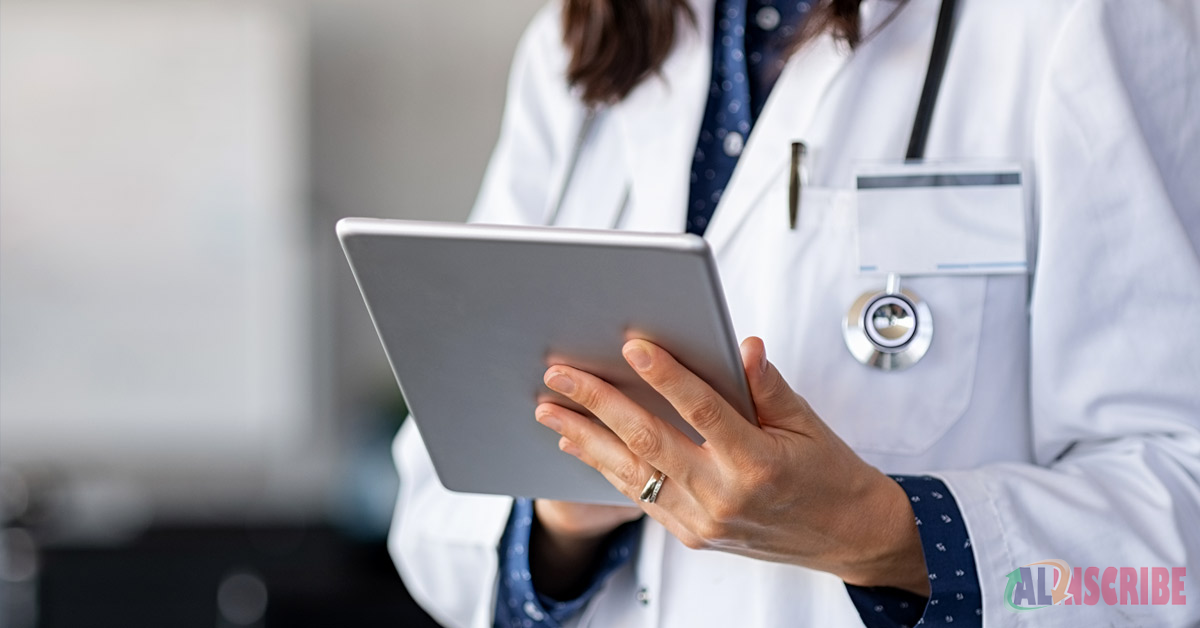 4. Analytics and reporting
The success of a healthcare organization is delivered by data-driven decision making. Therefore, this makes it important for the healthcare ERP systems to possess robust reporting and analytical capabilities. Reporting and analytics features allow the healthcare professionals to identify changes in industry regulations, monitor performance, gain valuable insights regarding key metrics and so on. With advanced reporting features, it becomes easy to customize dashboards, keep up with real-time AI driven analytics, check and track treatment outcomes, track resource utilization, keep an eye on operation efficiency and monitor financial metrics. All of this makes reporting and analytics an important feature to look out for in the healthcare ERP systems.
5. Regulatory compliance tracker
Maintaining all the industry related regulations is very crucial for healthcare businesses. Regulatory compliance is one of the priorities of healthcare companies. Hence, it is important to implement a tool that can help them in tracking regulatory compliance through its ventures. This feature can help in managing data privacy controls, audit trails, security measures and compliance reporting. Incorporation of these features ensures that the healthcare organization is managing their confidentiality while avoiding all legal and regulatory penalties.
6. Interoperability
The last but not least feature is interoperability. The feature of interoperability allows error-free data exchange as well as communication by integrating different healthcare ERP systems. It allows the healthcare professionals to share important data with stakeholders as well as share test results and medical records among various departments. Interoperability ensures unmatched co-ordination between different departments, which gradually leads towards enhanced patient care and successful results.
The above mentioned features can be used as parameters to judge the best healthcare ERP systems for your healthcare organization.
What are the benefits of implementing healthcare ERP systems
There are significant numbers of benefits that can be gained by implementing healthcare ERP systems. Some of these benefits are explained in the following section.
Easy access to patient related data
You gain easy access to all patient related data as those are stored within a single interface, which can be accessed with a few clicks.
Data-driven decision making
Advanced healthcare ERP systems now offer real-time analytics with the help of AI, artificial intelligence. AI helps in offering in-depth knowledge, which drives towards more informed decision making.
Less error more efficiency
Implementing healthcare ERP systems are equivalent to reducing the number of manual errors. ERP solutions automate the entire system and offer great flexibility, which enhances organizational performance and drives towards better result.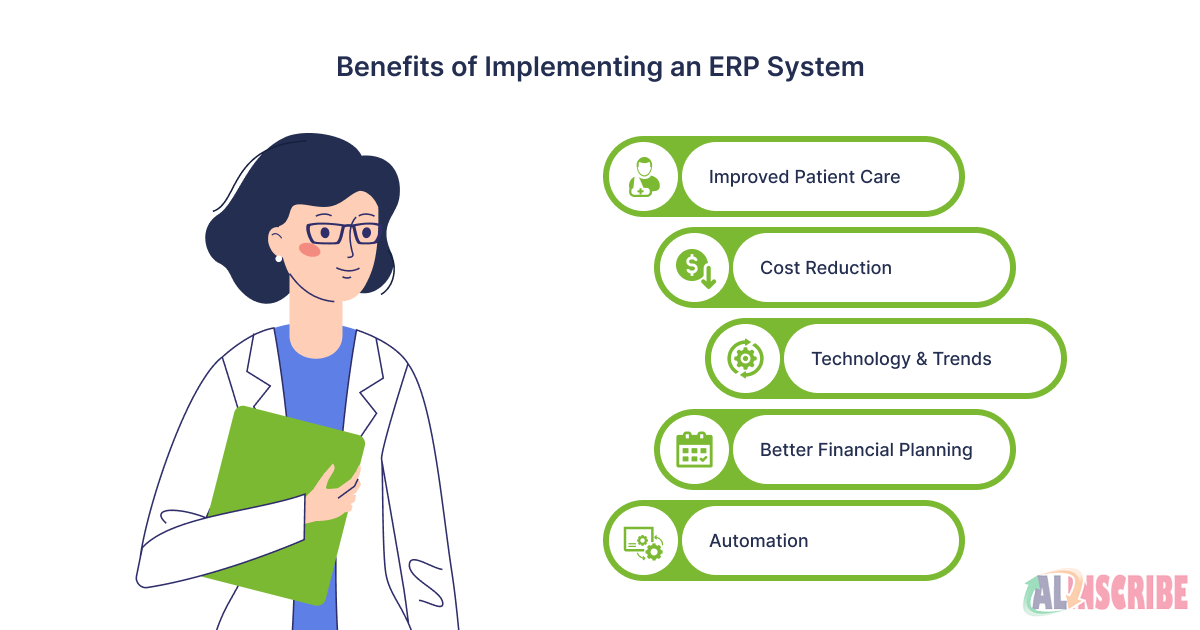 Strategic planning with the help of BI
Business Intelligence is certainly one of the most valuable resource when it comes to technical tools for businesses. Integrating BI with ERP solutions can certainly bring positive results and you can read about it in our article: Why Business Intelligence (BI) Needs To Be Integrated With ERP Systems.
BI in healthcare ERP systems can help the healthcare organizations with strategic planning. It helps you in measuring the organization's performance, look for the areas of weakness, determine strategies to combat the issues and monitor the results.
Cloud storage
Cloud-based healthcare ERP systems allow the healthcare processions to access any document from anywhere at any time, which works out well during the times of emergency.
What kind of challenges can be faced during the implementation of healthcare ERP systems
Just like any other sector, implementation of ERP systems in healthcare organizations are bound to face certain challenges. These challenges may include data migration issues, issues related to knowledge gap, costs of implementation and integration, lack of flexibility, insufficient testing, deployment and so on. In this scenario, it is better if the healthcare organization has a dedicated IT team to take of all of the technical nuisance.
On the other hand, issues like knowledge gap and lack of flexibility need to be fixed by providing adequate amount of training to the staff and healthcare professionals.
Conclusion
It can be stated without any doubt that ERP implementation is certainly crucial for healthcare organizations. There are many consideration that need to be taken care of while choosing the best healthcare ERP systems. This is why we have crafted this article for helping you in performing the selection task as you look for the most essential features in healthcare ERP systems. These above mentioned features can certainly be helpful for you in your next healthcare ERP systems hunt.
And if you are looking forward to narrowing down your research and saving some time then you can read our Top 10 Healthcare ERP Systems For Healthcare Business article to know which healthcare ERP systems should be in your list.