For decades now, ERP software has been playing a pivotal role in the digital transformation of companies and catering to various kinds of industries. Similarly, software like ERP for Food and Beverage Industry helps them to keep their business up and running by managing and optimizing the business processes like ordering and procurement of raw materials, processing orders, managing recipes, billing, production planning, etc. With super excitement and enthusiasm, the food and beverage industries are prioritizing ERP tools for digital transformation to keep their business accustomed to changing environments, dynamic expectations, new regulations, and business models.
ERP for Food and Beverage Industry
We know that the ERP system has always been the central hub for data processing. But it is not necessary that every ERP software will be suitable for the food industry. It should possess features that enable a smooth manufacturing process. Functionalities to look for in food and beverage ERP must include demand forecasting, compliance management, food traceability, ingredient inventory control, QC (Quality Control) testing, and recipe management. ERP systems have proved to be highly advantageous for manufacturing industries and a shift to Cloud ERP due to the digitalization trend has not only idolized ERP as a tool for operational businesses, but it has now converted it into a strategic building block!
There's no business like the food business as it depends on the tastes and preferences of the consumers and that's why the decision-makers of the food industry face the biggest challenges while choosing the optimum food and beverage ERP solutions. Food and Beverage Industry consists of freshly prepared, packaged products and alcoholic and non-alcoholic infusions and potions whose manufacturing, packaging, and distribution require a considerable amount of coordination and integration amongst different departments, people, and locations. Thus, the need of the hour is ERP software and only then maintaining expiries and pleasing customers in a well-timed and efficient manner would be possible.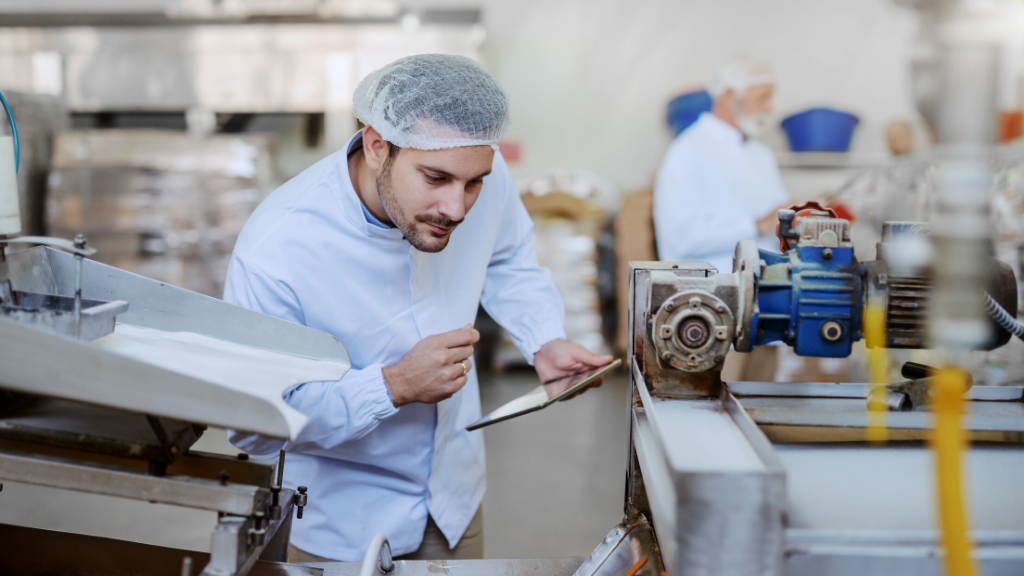 Challenges encountered by F&B Industry
1. Mishaps in data management:
This is indubitably one of the biggest challenges the industry has to face. Before the ultimate product of food and beverage enters the market, it goes through numerous steps, including quality testing, additions, manufacturing and packaging specifications, vendors and suppliers, and even statutory and regulatory compliances. The integration and synchronization of business processes in a timely and efficient manner is definitely treated as a huge challenge for this industry. This throws down the gauntlet not only affects a business's ability to cope and comply with the statutory protocols but also hinders customers' loyalty and brand reputation. Implementation of appropriate tools such as ERP for Food and Beverage Industry is one of the most streamlined solutions to this challenge.
2. Escalating apprehensions about F&B traceability:
Consumers in today's world are literally the game-changer. They have become quite mindful and responsive to red flags implying food contamination dangers in the supply chain. They are curious to know where their food comes from, the ingredients used to prepare it, the nutritional value they hold, its sustainability, and other such details. These active consumers tend to become the brand promotor and prefer to purchase from a business that is more sustainable, socially responsible, and can be held accountable. The major challenge in this is its vast and long traceability across all the products, for each step involved and ingredient used, basically an urge to be well-acquainted with the entire department. This huge experiment can be performed with of course a food and beverage ERP system.
3. Quality Control and Management:
Nowadays, quality is gaining top priority in F&B Industry. It is in fact counted as make or break situation which can either uplift a brand's reputation or it can destroy it within no time because the quality offered to customers subsequently leads to customer satisfaction and loyalty. Starting from the right allergens, assigning expiry and manufactured date, ingredients, maintaining consistency and appearance and ensuring that the final product is released with standard quality has really become a cumbersome task. It can be best deciphered by integrated, streamlined, and automated business processes which need to be the core features of ERP for Food and Beverage Industry.
4. Complicated Inventory Management and Forecasting:
With the great involvement of raw materials and ingredients spread across different warehouses and locations have made the inventory control system an arduous and complicated task. Further, it might affect your inventory turnover ratio which will lead to worsening your cash flows.
Supplementing this is an obstruction in the global supply chain where coordination among different departments plays a vital role. Managing lead times, tracking various shipments, production planning, and matching customer demand at the exact time are some of the tiresome jobs which can be accomplished by having an automated ERP for Food and Beverage Industry.
Not only this, but Inventory Forecasting is also another huge challenge in front of the F&B industries. How? The compilation of data, drifts, and trends from different sections and departments to project the customer demands, their inclination towards a product, and their likes and dislikes often get converted into a protracted and time-consuming process.
Thus, with all these issues it can be stated that an ERP system will help in the ascertainment of inventory, Inventory Reorder Point (As termed in Inventory Management, it is the minimum level of stock for a specific product), maintaining Just-in-Time inventory system and efficient inventory management and control.
5. Catering to different packaging needs:
Depending on the nature, chemical composition, and shelf life, every product requires a different kind of packaging. Few products may be packed in plastic, tin, glass, or paper/cardboard containers while others would tend to perish. ERP software like SAP B1 solution helps you to maintain records of which food products and beverages require what kind of packaging ensuring that different processes join hands together with the inventory department so that all packaging materials are available when needed and food is not processed in the absence of the former.
ERP amidst Covid-19: New Era of Expectations
The Covid-19 outbreak was literally an unprecedented episode that occurred in 2020 and lasted long placing Global Supply Chains under the spotlight. Without any question, Covid-19 has completely changed the business landscape of the F&B industry and the way manufacturers are operating their businesses. The main concern was not only providing superior quality food products but also ensuring the well-being and safety of employees. The sudden breakout of Coronavirus disease left no company untouched in being affected by this global pandemic. Now consumers are way more discerning and willing to pay more for food that is safe, sustainable, and organically produced.
In this particular sector, transparency and traceability are considered the two most significant differentiators among food brands. Enterprises are proving themselves to be resilient in the face of disruption and are able to manage the influx in online consumer demand by adopting various new technologies such as IoT(Internet of Things), AI and Machine Learning, Blockchain (Studies say that it has the ability to revolutionize the agri-food supply-chain structure), and other smart systems to boost their processes and competitiveness in a business environment. Integration of IoT and AI-driven devices with ERP for Food and Beverage Industry, food and beverage professionals will know what is being used and where, in what quantities, how efficiently your business processes are running, and what your inventory level contemplates.
But the question arises of what Food and Beverage Industry is expecting from ERP systems. Being in the food industry is definitely not a piece of cake, they have to face an extensive array of challenges that are so not often met by other industries. This is because F&B Industry has to be very strict while binding with regulatory compliances and has a highly competitive and intricate supply infrastructure.
ERP for Food and Beverage Industry is an impeccable solution to your problems. While it serves businesses across various industries, it is great for managing your perishable stock too. With features like batch tracking, batch traceability, predictive stock management, QA monitoring, and other ERP systems for food and beverage industry are totally a boon!
Let us hover over some of its benefits:-
1. Food Safety and Compliance:
The government issues food safety measures to protect food production within the country as well as to facilitate international trade. For this, all manufacturers must comply with the given standards on food quality and safety. To accomplish this hard task, there's a one-stop solution that is worth pursuing and has a lasting positive impact. That's an ERP system for Food and Beverage Industry. Although the implementation can be a tough and convoluted journey, but it is well worth the effort. You can achieve your goal of establishing a global supply chain with its transformative results.
Having a food and beverage ERP system in place, you can deal with this monumental challenge with utmost confidence. You don't wish to be caught muddling and scrambling if your products contained an unlabeled allergen or other precarious materials. You must have all the required paperwork and records in hand. The traceability tools of ERP systems for food and beverage industry capture the granular data that will help you to determine the ingredients culminating in your product and bits and pieces coming into contact with the particular product. It is hence very crucial that we pay close attention to what's in the product we consume. UK hospitals reported that between 1998 to 2018, 101891 people were admitted to hospitals due to anaphylaxis, out of which 30% were coded as due to a food trigger. Thus, F&B Industry specialists and manufacturers who work with allergens must look for cases where contamination has occurred and exactly what may have been affected and where it can be found in the supply chain. A small mishap will demotivate customers to purchase, and you don't want to jeopardize your brand reputation.
2. Enabling Complete Visibility with Integrated Database:
For any business, the supply chain is its backbone and it's critical that few organizations do not have end-to-end visibility into their business operations. "According to a report issued by the Institute of Supply Management, a substantial number of businesses faced "Churchill War Rooms" like supply chain disruptions back in 2020, due to inadequate supply chain visibility and supply chain management." With stringent and rigorous food safety standards and regulations amidst lack of supply chain visibility, the F&B Industry has become vulnerable and inclined to food recalls, brand destruction, and consumer backlash.
ERP for Food and Beverage Industry help companies (whether involved in global operations or not), to get real-time updates and notifications about their inventory and logistics, making it simpler to identify bottlenecks and affix them. It also provides you with a holistic overview of warehouse operations spread across different geographical locations. ERP solutions will never leave you at bay and will help you to upgrade your supply chain transparency by mitigating stock-out and overstocking situations. ERP for food and beverage industry works as a "unified source of truth" across different departments and breaks down the information that works in a silo.
3. End-to-End Food Traceability:
Food Traceability is essential and even novice food manufacturers and professionals know its importance. But ever thought about why traceability is an important element for F&B Industry? In an endeavor to combat contamination, safety agencies like Global Food Safety Initiative (GFSI), Safe Quality Food Institute (SQFI), and BRC Global Standards issue strict guidelines and protocols in place to ensure safety of the food we eat. It is also estimated that approximately 600 million people fall ill from consuming contaminated food every year. Contamination includes everything from physical impurities (such as hair strands, insects, or tiny pieces of glass), chemical noxious waste (such as heavy metals, mycotoxins, pesticides, or cleaning agents), to biological contaminants ( like bacteria, viruses, parasites, and prions). Thus, you must have a product tracing solution that possess the ability to track a product at multiple levels of detail and with an ERP for food and beverage industry, every transaction is tracked and reported within the system from the moment an item or lot is purchased or produced to the time it exits the premises.
Having complete visibility and control over your traceability will help you ensure compliance and pass mock traceability tests and audits and probably that's what big wholesale corporations like Walmart and Costco demand in order to do business with them.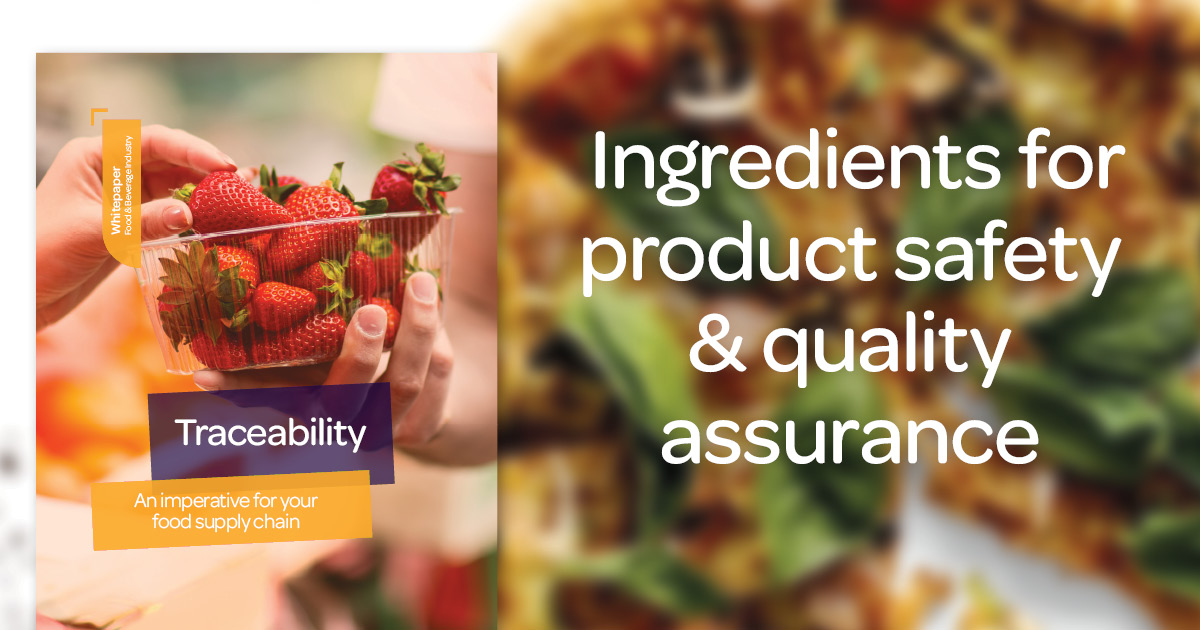 4. Consistency and Quality Control Assurance:
In F&B Industry, maintaining quality is one of the most hectic tasks because, at the end of the end, consumers are eager to know that the products they purchase are worth the money spent. Meanwhile, you would not be willing to risk your brand esteem and suffer loss of market share or potential food safety emergency. Therefore, you need a purpose-built technology like an ERP solution to sail through.
The manufacturers should be assured about ingredients before the actual manufacturing initiates. Food and beverage ERP systems help you to capture all the information such as contracts signed with the suppliers, the specific name of the ingredient and your internal code or identifier for it, and complete contact details of the suppliers associated with it- all maintained digitally in an easy-to-access and company-wide database. They have built-in quality management features that facilitate the collection and analysis of in-process quality data such as integration with smart sensors, scales, and thermometers that will assist you in gathering crucial information from cooking temperature to consistency, color, shape, and other key aspects.
From smart scales and sensors to intelligent AI-driven image analysis, ERP systems for food and beverage industry consists of tools to guarantee that every product that exits your facilities is meeting your organization's standards.
5. Inventory Management and Robust Forecasting:
Food and beverage ERP systems help you to track inventory levels and know exactly what's left behind and how many days it will lasts so that you are able to make smart and informed purchasing decisions. Updates you in real-time and offers you a glimpse of upcoming demands so that you can prepare for the best. It captures the sheer amount of data for each lot locomoting in your facilities. ERP is quite useful in minimizing waste and leading you to the roadmap of success no matter the circumstances.
6. Eliminating Human Errors:
We humans are prone to mistakes but these manual slipups and blunders when occurring in the food and beverage industry, can turn into a complete disaster. Food Industry is perishable and exposed to wrong contents, but if you have your critical procedures planned and scheduled in advance, there's no chance of errors or oversights. With ERP for Food and Beverage Industry you will be able to schedule activities, for example, cleaning and maintenance, and make sure that hygiene and upkeep are performed time-to-time so that you can minimize production downtime.
Having discussed the potential benefits of ERP systems for food and beverage industry, you might be curious to know about the ERP solutions catering to F&B Industry. There is a need for ERP systems regardless of the company's size and nature. Just like Starbucks and Walmart operates and handle their huge transactions and processes using Oracle ERP and SAP HANA business intelligence platform respectively, even your company can also choose the appropriate food ERP to scale your business, and remember the sky is not the limit!
So, let's eliminate the traditional and age-old manufacturing needs and take your company on a digital transformation voyage within the food and beverage space. The list of top 10 (as per the Third-stage Consulting Group) ERPs is as follows:
Key Takeaways:
There are a lot of parts to juggle, and traditional methods won't assist you in coping with the escalating demand and growth. An ERP which is F&B industry-oriented is designed in such a way that it streamlines the business processes unique to the food and beverage segment and bridges the gaps that traditional methods cannot. To have ERP for food and beverage industry is a must- this is well understood, but it might be that all ERPs are not suitable for Food Industry like SAP s/4 HANA being such a robust ERP solution, but it lacks hyper-focus on food and beverage ERP, and Microsoft D365 and Epicor used by global and massively complex organizations but lack depth and toughness when it comes to catering food industry. Thus, you ought to have deep knowledge of your organization and make sure that you have an experienced team of consultants on board who will help you to select the food and beverage ERP solution accordingly. You will be mesmerized by the outcomes it bestows.