ERP software have taken over almost every possible industry and made those even more functional than those were before. Almost every sector has now adapted to the changing technical atmosphere and considered the assistance of ERP software. This one decision has helped them in taking a step ahead towards digital transformation.
However, there are some industries which are still not welcoming enough towards the adaptation of ERP software and, oil and gas industry is one of those. Oil and gas sector is considered to be the backbone of an economy, which requires it to be digitalized in order to make the business processes automated and more profitable.
Nevertheless, it is not easy to digitalize an oil and gas company without facing certain challenges. And to overcome those challenges you need to choose ERP software that is specifically designed for this industry standards. Now a question may arise regarding software that are suitable for this industry.
In this article, we will discuss the Top 10 Best ERP Software for Oil & Gas Business. First, a definition of oil and gas ERP software has been provided, which is followed by the list of 10 best oil and gas ERP software to be used by the O&G companies. Thus, keep reading the article to know which ERP software has gained the reputation of being the best ERP software for the said industry.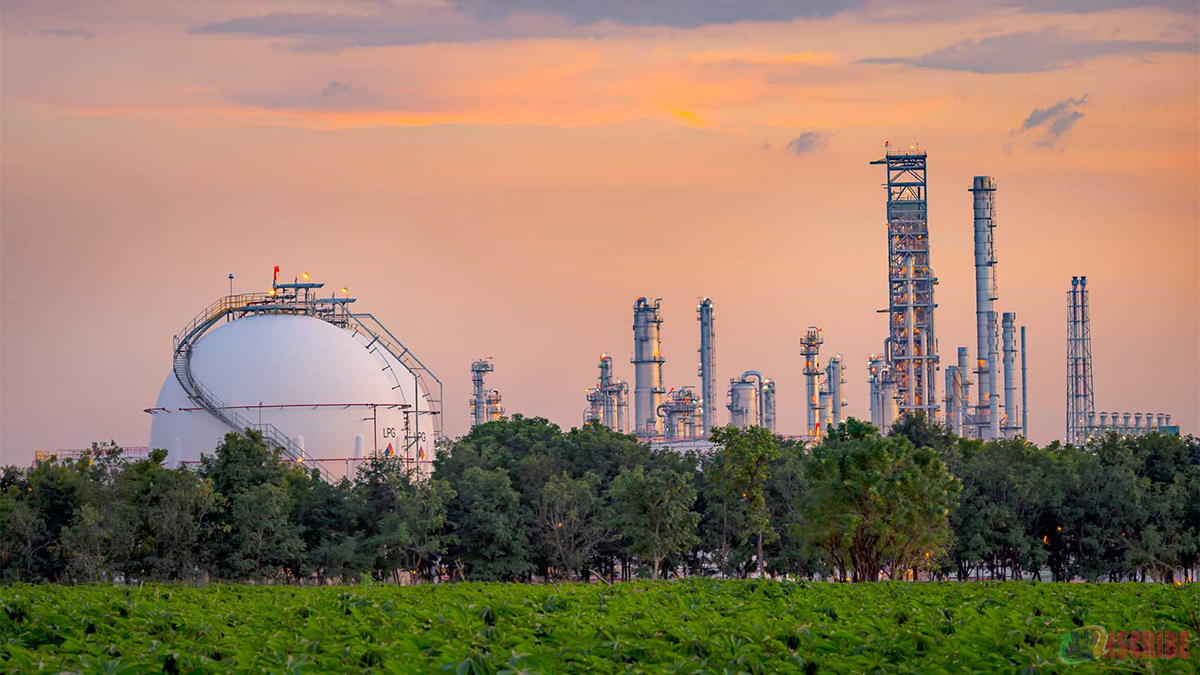 Definition of oil and gas ERP software
Oil and gas ERP software are a kind of Enterprise Resource Solutions that are specialized for business operations associated with oil and gas industry. By implementing oil and gas ERP software, the companies can establish a seamless workflow while managing their operations, tracking production data and complying with regulations without facing many issues. There are also some features which need to be kept under consideration while choosing software for your O&G company. These features are mentioned in the following section.
If you want to know more about ERP software and oil and gas industry then make sure to go through our article on Importance Of ERP Software For Oil And Gas Industry.
Features to be in an oil and gas ERP software
Oil and gas industry is one of the most complex and frequently changing sectors. Moreover, there is a cut-throat competition to survive under as well. In this scenario, O&G companies need a robust ERP solution that is capable of meeting each and every of their requirements. And to meet the said requirements, the ERP software need to have a set of unique features. These unique and specialized features are mentioned below.
Production planning and scheduling
Multi-location inventory tracking
Order management
Financial management
Real-time data analysis and insights
Supply chain management
Assets tracking and management
Employee management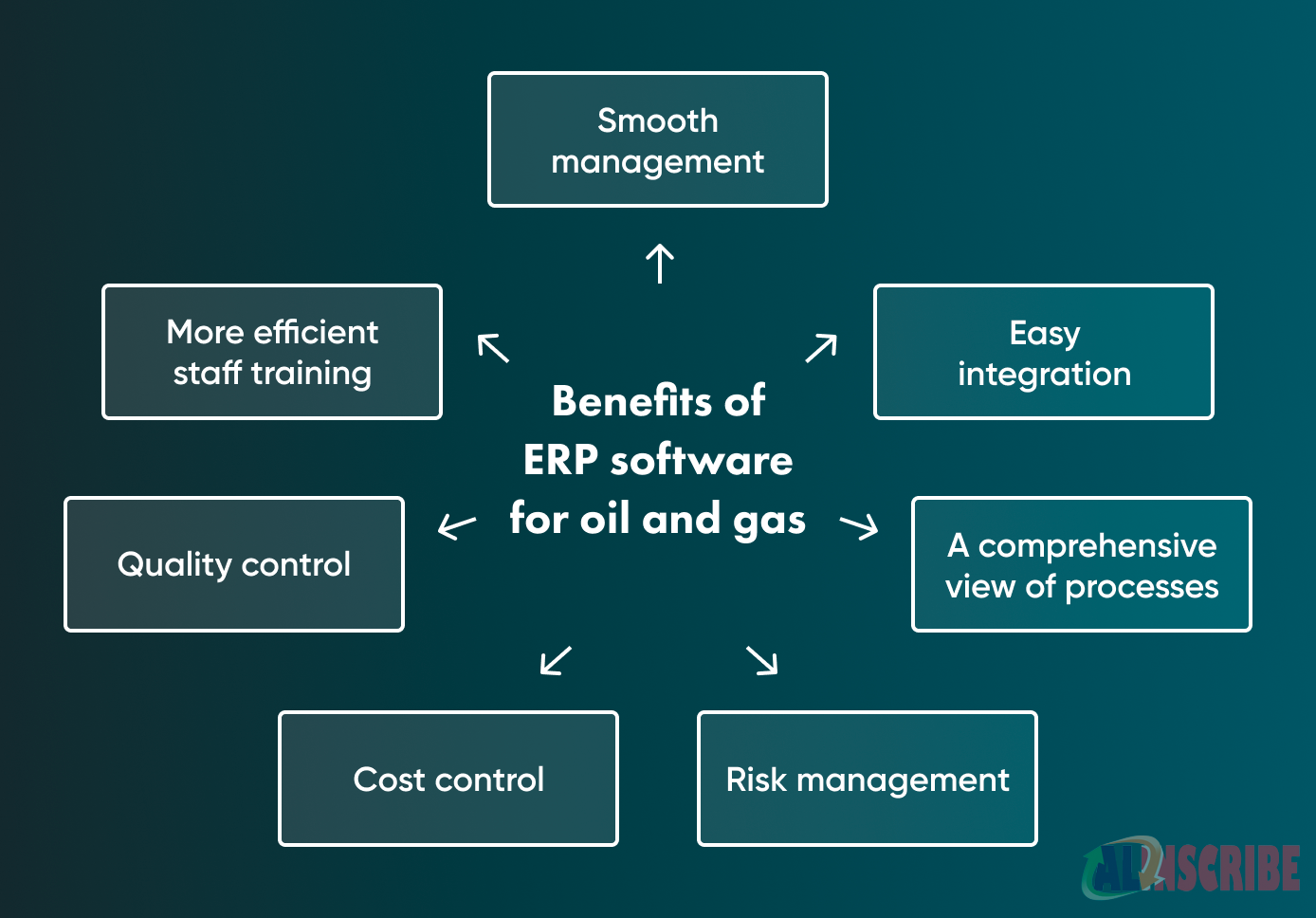 These above mentioned features are the standard functionalities that are required to be presented in the oil and gas ERP software. However, the set of features are mostly dependent on the company and its needs. Hence, the company should always choose an oil and gas ERP software that meets each and every required criterion.
Top 10 best oil and gas ERP software
Choosing the best oil and gas ERP software depends mostly on the offered features, pricing structure, benefits that can be acquired and the user reviews. In this section of the article, we have collected 10 best oil and gas ERP software based on key features and user reviews. The list is presented in a descending format. Hence, keep reading this article to know which oil and gas ERP software has topped the list.
Key features

Accounts Payable and Receivable.
Purchasing Management.
Cash Management.
Built-In Reporting.
Dashboards.
Collaboration Tools.
Additional Modules.

Pricing

Starts from $15000 to $35000 for the annual subscription.
The 10th position of this list of oil and gas ERP software has been gained by Sage Intacct. This software is designed focusing on the financial management operations of O&G companies. The software is known to be modern and easy to navigate by the users. Advanced reporting and analytics feature of the software makes it one of the best choices for the O&G companies. It is also quite easy to integrate Sage Intacct with various third-party solutions.
Pros
Cons

Quick and easy reconciliation, which is very easy to populate.
Interface is easy to navigate
Enhanced customer service

Auto-payment works with only one bank account
Incorrect credits are difficult to correct in order to implement a smooth transaction.
Key features

Integrated Customer Relationship Management
Detailed Financial Management
Process Standardization
Data-driven Decision Making

Pricing

Starts from $0.18 for one-time
HashMicro is the 9th best oil and gas ERP software in 2023. The software is designed for optimizing mining projects, which makes it one of the most suitable software for O&G industry. With an advanced real-time cost control feature, the users can monitor their expenses and implement important strategies for reducing operational costs. One of the best things about HashMicro is that it is very affordable and can be easily affordable by small and medium sized companies.
Pros
Cons

A wide range of modules available
High ROI has been reported by the existing customers
Customer support is known to be very efficient

The feature set of the software can be tough to understand
Customization is limited
Key features

Schedule management
Risk management
Project management
Cost management

Pricing

Pricing is available upon quotation request.
In 8th position we have Deltek Costpoint as one of the best oil and gas ERP software. this ERP solution offers a comprehensive solution for O&G companies, which are looking for advanced accounting features and financial management. Its easy reporting feature can increase productivity by reducing report generation time and cost. It streamlines workflow and provides advanced expense management, contract management, procurement etc. The software is specifically designed for government contractors associated with oil and gas industry.
Pros
Cons

Easy access to timecard and logs
Easy and customizable set-up available
Reports can be exported to excel sheet directly
Easy to navigate

Custom reports are tough to be created
Search field feature for employee data needs improvement
Employee self-service features need to have more workflow and business rules related options.
Key features

Reporting and analysis
Payables and assets
Revenue management
Joint venture management
Expense management

Pricing

Pricing is available upon quotation request.
Oracle ERP has been recognized as the 7th best oil and gas ERP software. This software allows the users to seamlessly act under new situation. The advanced analytics feature of this software helps in identifying trends and patterns in the market. Oracle ERP comes in handy in simplifying day-to-day tasks and speeding up the entire work process. It allows the users to analyze new trends and use that for the benefit of the company. If you are looking for software that can help you in streamlining the business processes of your O&G company, then Oracle ERP can be a decent choice.
Pros
Cons

Easy to use
Report generation happens on time
The software is very professionally designed

Sales order modification and cancellation is tough to perform.
The system can get slow at times
Very little availability for training materials.
Key features

Human resources management
Spend management
Payroll
Planning
Analytics

Pricing

Pricing is available upon quotation request.
The 6th position of this list has been acquired by Workday. Workday is a comprehensive solution that offers real-time insight of employee performance for managing workforce in a better and more systematic manner. The simplified and automated expense report processing feature makes it easier to identify cost-saving opportunities and implement new spending policies. Additionally, AI integration of Workday empowers informative decision making and helps in solving several business challenges.
Pros
Cons

Spreadsheets can be generated from data and tables easily.
Easy to customize based on the company needs
Easy presentation of important information

Expensive user training course
Navigation needs to be clearer
Implementation can be complex and complicated.
Key features

Enterprise asset management
Accounting and finance
Service management

Pricing

Pricing is available upon quotation request.
The next in the list is IFS ERP. IFS is considered as one of the best oil and gas ERP software because of its innovative and customer centric approach. This solution is very customizable and offers an easy asset management feature, which certainly becomes very helpful in O&G industry. IFS is a standard solution that offers to streamline and automate various business processes without making anything confusing or tough.
Pros
Cons

Comprehensive functionalities are offered
Easily customizable
User-friendly interface
Reports can be easily exported to excel

Difficult to set-up
Report generation feature consumes too-much time.
It is difficult to access old data
Key features

Financial management
Spend management
Supply chain management
Human capital management

Pricing

Starting license package: $1357 per user for on-premise for five years
Limited license package: $1666 per user
Professional license package: $3213 per user
SAP Business One has gained the 4th position in this list of 10 best oil and gas ERP software. The best thing about this software is the easy-integration feature, which lets you integrate the software with different third-parties and generate reports easily. You can easily find several modules and features for specific business needs when you opt for SAP business one. There are also various types of prices available, which makes it easy to choose either a short-term or a long-term package based on needs.
Pros
Cons

Easy integration available
No requirement of manual data entry
Offers features based on the industry and business needs.

Very expensive, not affordable by start-ups and mid-sized companies.
Can be quite complex to understand for the first time users.
Key features

Accounting and finance
Land, contracts, mapping
Production
Reporting and integration

Pricing

Pricing depends on chosen functionalities, hosting types and consulting.
Enertia has been recognized as the 3rd best oil and gas ERP software. This software boasts a wide range of features and functionalities, crafted specifically for oil and gas industry. It helps companies to manage their regulations as well as finances. This software is easy to use, which ends up saving a lot of time and training expenses. On top of everything, Enertia is known for its advanced customer service. Thus, it is certainly a good choice for O&G businesses.
Pros
Cons

This software is specialized for oil and gas industry.
Easy tracking features available
Easy user-interface

Can get a bit slow while using
Reporting feature requires improvement
Can throw frequent errors
Key features

Accounting and financial management
Project management
Enterprise asset management
Supply chain management

Pricing

Pricing usually depends on purchased modules, industry size and number of users.
$795 to $1095 per user for licensing.
Infor is the 2nd best software in the category of oil and gas ERP software. with more than 20,000 customers from over 120 countries, Infor becomes one of the leading service providers. The software is designed in a way to meet all the requirements of each and every industry with its wide range of modules and features. Easy adaptability of the software makes it flexible and agile. Moreover, the accounting feature of this software is easy to understand, unlike most of the other software of this stature.
Pros
Cons

Easy to be adapted
Accounting functionalities are easy to be handled
Ensures accuracy of costs without any issues.

Offers unstructured reports
Integration options are very few
Financial statement generation needs to be improved
Key features

Financial management
Inventory management
Customer relationship management Spend management
Business intelligence

Pricing

$999 per month for licensing
$99 per month for each user
Without a doubt, the top place of this list of 10 best oil and gas ERP software has been claimed by Oracle NetSuite. Oracle NetSuite is designed to manage every little aspect of an oil and gas business. It is capable of handling various business processes without crashing or slowing down. Moreover, the software is easy to use, making it easy for the first time users to get a hold of it easily.
Pros
Cons

Capable of handing various business processes without getting slow.
Easily scalable to meet the requirements of an organization.
Offers a lot of comprehensive functionalities.

Reports could be more accurate
Advanced modules require additional costs, which can be quite expensive.
Required information can be tough to find.
Conclusion
Choosing the right oil and gas ERP software depends mostly on your business needs. Thus, you need to map out the requirements and then choose the software that appears to be the most suitable one. This list can help you in narrowing down your search and complete choosing the software within a short span of time.