Managing business is not a course to run smoothly, especially in this era of increasing competition and regularly changing market trends. It is crucial for the business to grow without leaving any room for any mistake. However, as long as humans are there to undertake the complicated tasks, errors are bound to take place. And this is exactly why businesses are looking forward to automating the core business processes and staying away from potential human errors as much as possible.
When it comes to automating business processes, two of the most important software solutions to be named are ERP solutions and CRM solutions. ERP systems help in automating operational and financial tasks via very little to no human incorporation, while managing the central database of a business. CRM systems manage customer interactions, queries, and data effortlessly.
Even though both ERP and CRM systems are internally integrated with each other and make the entire business processing of an organization run smoothly, there are indeed some differences that are needed to be aware of. Without a doubt, both of the systems are way too important for businesses these days. However, not being aware of the core differences between ERP and CRM can cause hindrance within otherwise smooth running business process. Hence, if you are running a business and you are looking forward to implementing an ERP or a CRM or both of the systems, make sure to know how these solutions differ from each other. And to help you with the initial step, we have crafted this article discussing the core differences between ERP and CRM. We will interject our main focus on the ERP vs CRM debate to help you in understanding whether your business needs an ERP or a CRM or both.
So, keep reading this article to gain some valuable insight on the CRM vs ERP topic.
Key features of an ERP system
In this section of the article, we will learn about some of the key features that are offered by the ERP systems.
Automation
ERP holds the capability of automating the business tasks that take place in a repeatable manner. These type of business processes may include reporting, invoicing, order processing, payroll etc. ERP systems' efficiency makes it sure that data incorporated by one user is available to every permitted user all around the organization. Hence, an invoicing module could easily update the status of an invoice from "due" to "paid" once a payment has been received and has been recorded by a user. This automation promises a better and much smoother workflow through the entire organization than ever before.
Integration
A strong integration among all the core business processes of an organization ensure a successful and less complicated work and data flow. However, data silos can end up taking place more often if an organization lacks the needed integrated infrastructure. Implementing an ERP system translates to having a core strength to integrate all the core business processes with each other, which ensures better and more streamlined management than ever before.
Financial management
Financial management is indeed one of the most complicated tasks to be performed in the course of a business. it is complex process that includes planning, organizing, determining and implementing the best use of funds. It is crucial for the financial leaders to track information and data from every department in order to proceed with decision making process. One of the primary features of ERP systems include financial management, which tracks, analyzes, and reports all the important financial data and make that accessible by the financial leaders of the organization.
Human resource management
The Human Resource modules of the ERP systems acts as an employee management system with every needed component. ERP systems usually offer hiring management, payroll management, leave management, compensation management, expense management and so on features for ensuring successful management of all employee related data.
Accounting management
Without a doubt, accounting is another of the most important yet complicated business processes to exist. With the help of ERP systems' accounting module, one can analyze, track and store financial data, manage taxes, donations, assets, revenue, multi-currency and other aspects associated with an organization's accounting needs. ERP systems help in speeding up the entire accounting process and draws the month-end closes much faster than before.
The abovementioned features are some of the most important features of ERP systems. However, manufacturing management, sales and marketing management, supply chain management, inventory management are also some valuable features to be associated with the ERP systems. Understanding the features of an ERP system is crucial for unfolding the argument of ERP vs CRM.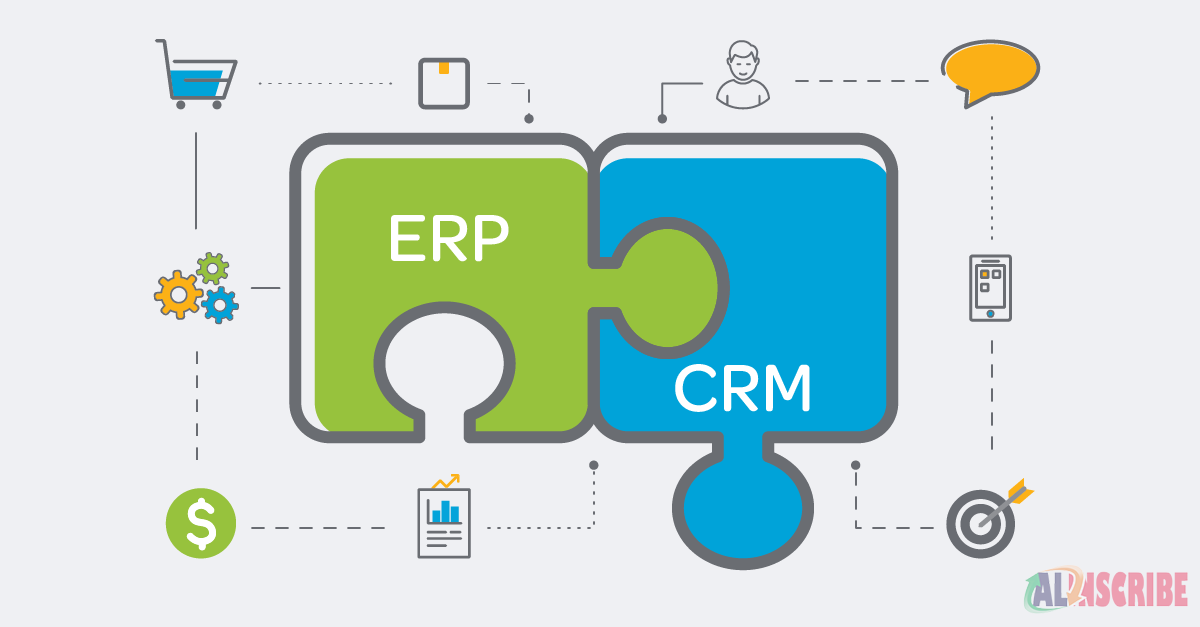 Definition of a CRM system
Customer Relationship Management (CRM) systems are software solutions to be used for processing, storing and managing all the customer related data in an organized and automated manner. It helps in synchronizing the sales with customer data, while leaving no room for error. Implementation of CRM systems ensure easy tracking of the communication that occurs between the company and the customers or potential customers. It integrates all the customer service elements under one instance and enhance the customer service experiences of the customers. With weekly, monthly and annual reporting on sales performance, it also helps in enhancing sales, which certainly ends up benefitting the organization all together.
Key features of a CRM system
Just as ERP systems, CRM systems also have some of the features which are more celebrated than the other ones. Some of these features are discussed below.
Customer service
It is only natural for a CRM system to be used for managing customer service. With the implementation of CRM systems, you can gain a 360 degree view of a customer. It also helps in tracking all communication points that happens from lead acquisition to closed sales. You can gain a better insight of your customers purchasing habits and history by accessing the log of the CRM system. A CRM system addresses the customers' queries and issues automatically and helps the customer service executive in assisting the customers in a better manner.
Social media integration
When the CRM systems have a social media monitoring feature. It saves your marketing time. You can easily keep a track of what your customers are saying about your brand and your products. You can also analyze, and monitor engagement associated with your company's social media accounts. See how your brand is making an impression on your prospects and potential customers.
Real-time data
With the help of upgraded CRM systems, you can pull real-time data and use that for making better decision regarding sales and marketing. You can keep an eye on the bidding price of online advertisements and make crucial decision based on the same. you can also gain an insight on the market demand and update your marketing plan accordingly to reach as many customers as possible.
Lead management
CRM system's lead management feature has the ability of identifying appropriate leads along with the actions that have been taken during the sales cycle. This lead management feature of a CRM also allow you to filter your leads, choose the ones that need to be prioritized and take important actions to score a lead smoothly.
Email
Email is one of the most important elements to be connected with the course of customer service. Managing customers' relationship via email inbox is not only confusing but also very time-consuming. On the other hand, managing emails through CRM systems are much more agile. CRM systems automatically send emails when shipment ensues, when a query is solved, when there is an offer etc. CRM systems also offer email templates, which saves up your time of designing one. All you need to do is to customize the email content, select the recipients and schedule the emails. The rest of the work will be done by the CRM itself.
Apart from abovementioned features, CRM analytics, reporting, third-party integration, employee tracking are some of the CRM features that deserve mention. In the case of CRM vs ERP debate, CRM systems hold the place as a more-customer oriented element than ERP is.
ERP vs. CRM: The frame of differences
From the above discussion, it is quite evident that both CRM and ERP systems play significant parts in enhancing core business process and smoothening up work and information flow. However, the capabilities and the features of these two systems are quite different from one another. There are some differences in the basic foundation of these two systems as well. Thus, to find out the core differences between ERP and CRM system it is important to draw a fame of basic difference beforehand. The same is provided in the following table.
| | | |
| --- | --- | --- |
| Point of difference | ERP | CRM |
| Definition | Enterprise Resource Planning (ERP) systems are a kind of software that manages day-to-day activities including accounting, logistic, managerial, procurement, project management, human resource management and more. | Customer Relationship Management (CRM) systems are software solutions to be used for processing, storing and managing all the customer related data in an organized and automated manner. |
| Type of software | Superset of SAP | Subset of SAP |
| Year of development | 1960 - 1970 | 1990 |
| Utilization | Front office ventures | Back office ventures |
| Area of focus | Cost reduction, automation | Better customer experience, increase in sales |
| Orientation | Enterprise | Customers |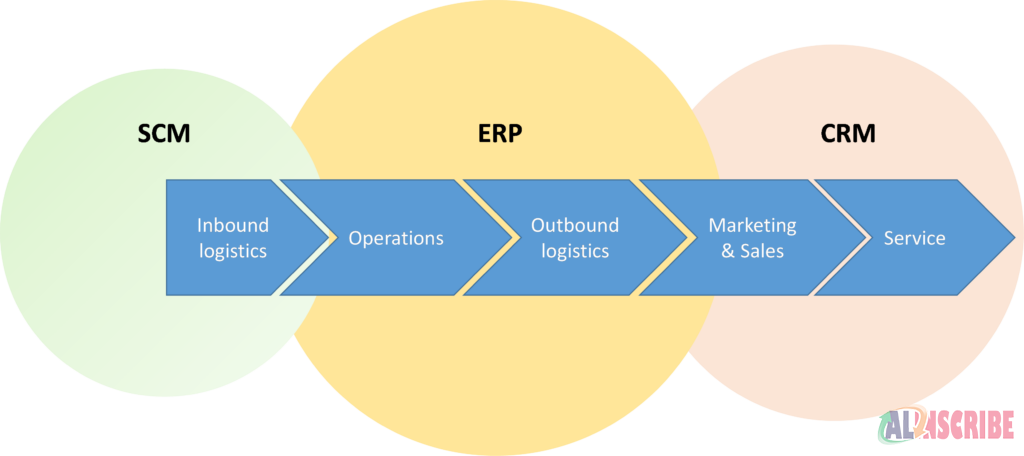 CRM vs ERP: The core differences
In the previous section we have discussed the basic differences between CRM and ERP systems. In this section we will dive deeper and discuss some of the core differences that make each of these software programs a significant and a necessary addition to an organization's business processes. The discussion is provided below.
ERP vs CRM: The backstory
The very first point of CRM vs ERP argument is the backstory.
ERP systems evolved from Material Requirements Planning (MRP) solutions. MRP solutions were meant for manufacturers in order to help them in managing all the resources needed to operate a successful manufacturing business.
CRM systems evolved from a set of features that were primarily designed and developed for sales department. Some of them were known as Sales Force Automation (SFA).
ERP vs CRM: Superset vs Subset
ERP systems are considered as superset of SAP, which means it is considered as an independent application with an array of features. All of these features have been developed keeping consideration of multiple business processes taking place within an organization.
CRM systems are considered as subset of SAP, which means it can be included in a superset, such as an ERP. CRM systems have several features. However, all of those features are developed taking consideration of only one aspect of a business, which is customer service. Thus, CRM can be included as a part of an ERP system. However, the vice-versa is not possible.
This is an important point in this debate of ERP vs CRM and the core differences between these two systems.
CRM vs ERP: Solution vs Application
ERP is a web-based application, which means you can install ERP in your own server. On-premises ERP systems are an instance of the same.
CRM systems are web-based solutions, which means CRM systems are more like a website and can be accessed easily via a browser and an active internet connection. These cannot be installed in a personal server.
In this debate of ERP vs CRM, CRM systems can be more agile one than ERP systems at times.
ERP vs CRM: Centralized system vs single platform
ERP is a centralized system that streamlines almost every kind of process associated with an organization.
CRM is not a centralized system, rather it is a single platform that is associated with managing customer service and customer experience.
Analyzing the core differences between ERP and CRM
It can be stated from the above discussion that ERP is a bigger software establishment than CRM is. CRM is only focused on driving customer services and managing customer experience. On the other hand, ERP draws a bigger picture. ERP plans, organize and manages complex business processes and streamline everything with another. Thus, it is safe to say that CRM is merely a part of ERP, which is sold and purchased as a standalone solution. ERP is an independent software solution that possesses many more features and functionalities than CRM solutions. And in some cases, ERP systems offer CRM features as well.
Thus, the core differences between ERP and CRM depends quite a lot on your business and your requirements. if you own a business that requires a system to manage your manufacturing orders, invoices, accounting, reporting, human resource and so on, the ERP systems are the answer for you. Meanwhile, if your business is more focused towards your customers, such as an E-commerce business, then you are in need of a CRM system. Regardless of this speculation, if your business is of a respectable size and you require both ERP and CRM's functionalities then what you need is a CRM integrated ERP system. You can read our article ERP vs CRM: Which is the best fit for your business for more information in this topic.