The oil and gas industry is known to be one of the most complex industries of the world. There are a number of significant aspects to be associated with this industry, such as exploration, extraction, production of oil and gas and lastly transportation of the same. Moreover, processing and refining can be added to this list as well.
Thus, it is only natural for the industry to face several challenges and issues while they try to manage their place in the market. Some of these challenges can be changing market regulations, and volatility of the markets. This is why oil and gas industry is in need of efficient management systems in order to improve their operations by great means.
However, choosing the right oil and gas ERP software from among all the available ones in the market can prove to be quite confusing. Hence, you need to determine some parameters for proceeding with it. The features that are required for managing oil and gas industry seamlessly can also be the parameters to look for.
This article contains a discussion on the essential features to look for in oil and gas ERP software. We will also discuss the importance and benefits of oil and gas ERP software. Hence, keep reading this article to gain some valuable insights regarding this topic.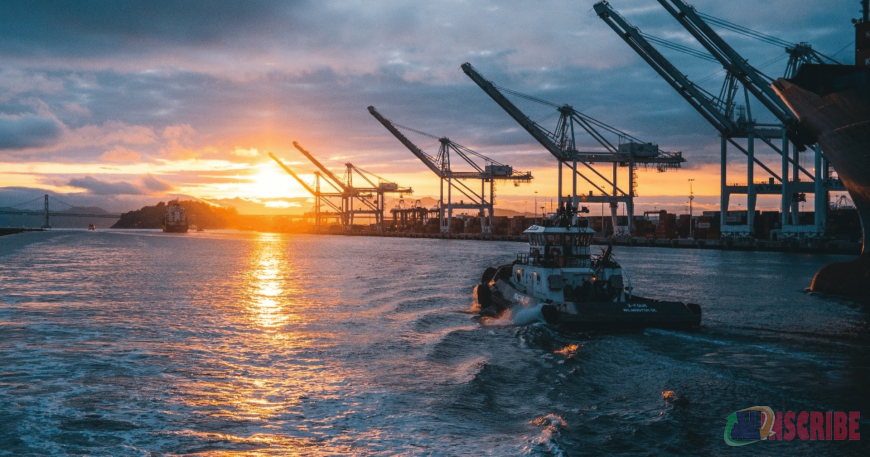 The importance of oil and gas ERP software
To define the course of an oil and gas ERP software simply, it can be stated that an oil and gas ERP software is a type of ERP solution that is designed specifically to meet the required specifications of an oil and gas company. These systems require to be comprehensive and integrated for optimizing all the business processes of the oil and gas companies.
With suitable oil and gas ERP software the companies can improve their supply chain management, automate complex business operations and gain a much better visibility of the company's processes. ERP systems can also manage finances, customer relationships, distribution channels, human resources, and so on.
Oil and gas ERP software can also help in managing several industry-specific regulations that the oil and gas companies are bound to follow. These type of regulations and standards may include Environmental Protection Agency (EPA) and the Occupational Safety and Health Administration (OSHA). Oil and gas ERP software allow you to automate compliance processes, which helps you out by reducing non-compliance risks as well as penalties while alerting you about the about overall safety.
You get to streamline your business processes, improve profitability all while staying out of any kind of risk factor with the implementation of oil and gas ERP software. this feature makes the course of oil and gas ERP software a crucial inclusion of your oil and gas business.
However, each oil and gas company can have different kind of business practices which leads towards having unique requirements. Hence, when your company has unique requirements, it is better to opt for a customized solution or a solution that is easily customizable to become the best fit for your company's needs.
Statistics regarding oil and gas ERP software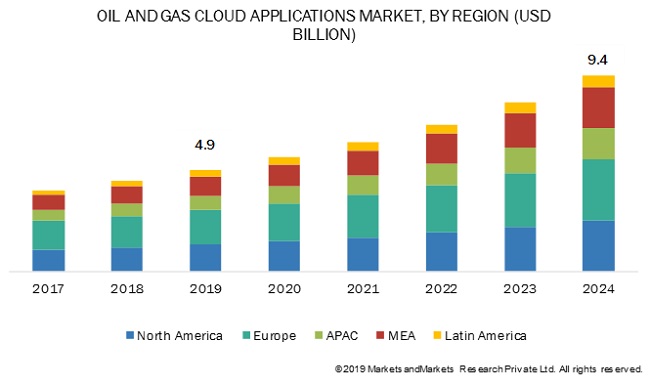 As the graph suggests, the application of cloud-based systems (predominately ERP systems) have been witnessing a rise in being chosen by the oil and gas companies. This graph depicts different regions embracing the use of oil and gas ERP software. In 2019 the sector generated a revenue of $4.9 billion, which is expected to grow by another $9.4 billion by 2024. In this case Europe is the most progressive one, closely followed by North America.
Thus, this market certainly has potential to grow, which is certainly good for both vendors and consumers.
Features to look for in an oil and gas ERP software
As has been stated in the previous section, features of oil and gas ERP software can vary based on the business requirements that your company may have. However, there are also some of the primary features that can be treated as the parameters to choose the right oil and gas ERP software for you.
In this section of the article, we will discuss some of the primary features to look for in oil and gas ERP software. These features are presented below.
Supply chain management (SCM)
Supply chain management is a common feature to be presented in every oil and gas ERP software and it is certainly one of the most important inclusions. Supply chain management feature of an ERP system can easily take care of procurement, storage and distribution of materials. It also takes notes on equipment performance as well as products across the supply chain networks.
Material Requirement Planning (MRP)
MRP comes right behind SCM in the measurement of importance. Oil and gas companies usually need to plan and procure all the needed materials in a manual manner, which is a subject to include several errors. These errors can easily be eliminated with automated process introduced by ERP systems. MRP module of oil and gas ERP software helps by automating planning and scheduling processes. ERP systems also automate the process of procuring raw materials, which saves both time and efforts.
Project management
Managing all of your important projects within a single interface while monitoring each of their progresses certainly makes the entire task of project management easier than ever. This is what you get by implementing functional oil and gas ERP software in your oil and gas company. You can easily plan and schedule your projects, add important notes to them without having to invest a lot of your time in it.
Financial reporting
Every kind of ERP system includes an in-built financial reporting module, and there is nothing different with oil and gas ERP software. this module allows the users to manage their day-to-day financial activities as well as more complex accounting tasks all within one platform. You can also get a monthly or a yearly report based on your financial performance, while taking care of budgeting.
Plant management
Plant management module is a crucial feature which allows you to manage company's assets and equipment while scheduling and tracking several preventive and corrective maintenance measures.
Human resource management
Employees are the driving force of companies and managing them without leaving any room for errors are only possible with the help of oil and gas ERP software and its HR management module. This module single handedly takes care of planning and execution of recruitment, training, performance monitoring, employee leaves and expense tracking etc. these also keep all the employee data safe and secure within the system's database.
Asset management
Using oil and gas ERP software means establishing a centralized database system that tracks all the equipment and assets of the company. This type of data may include their condition, maintenance history, location. Performance, availability, usability and efficiency. Oil and gas ERP software also offer you detailed analytics and reports regarding all the assets owned by your company, which makes it easy to micromanage.
Production scheduling
Production scheduling feature of oil and gas ERP software is capable of scheduling all the activities associated with production and refinement. Be it a single unit or a busy segment, ERP systems are capable of handling it all seamlessly. This helps the companies in managing their production in a much simpler and better manner.
Data backup and recovery
A business is a subject to possess a huge amount of data and when that business is an oil and gas business, there are certainly sensitive data and international schedules, which need to be kept safely and securely. Oil and gas ERP software stores and manages these sensitive data within a secure cloud solution while ensuring enhanced data protection to restrict data leakage and hacking.
HSE compliance
It is important for an oil and gas company to abide by the HSE, health, safety and environment, regulations imposed by the industry. Oil and gas ERP software maintains all of these compliances by alerting you in the time of emergency and you get to manage your company while keeping all the rules and regulations under your consideration.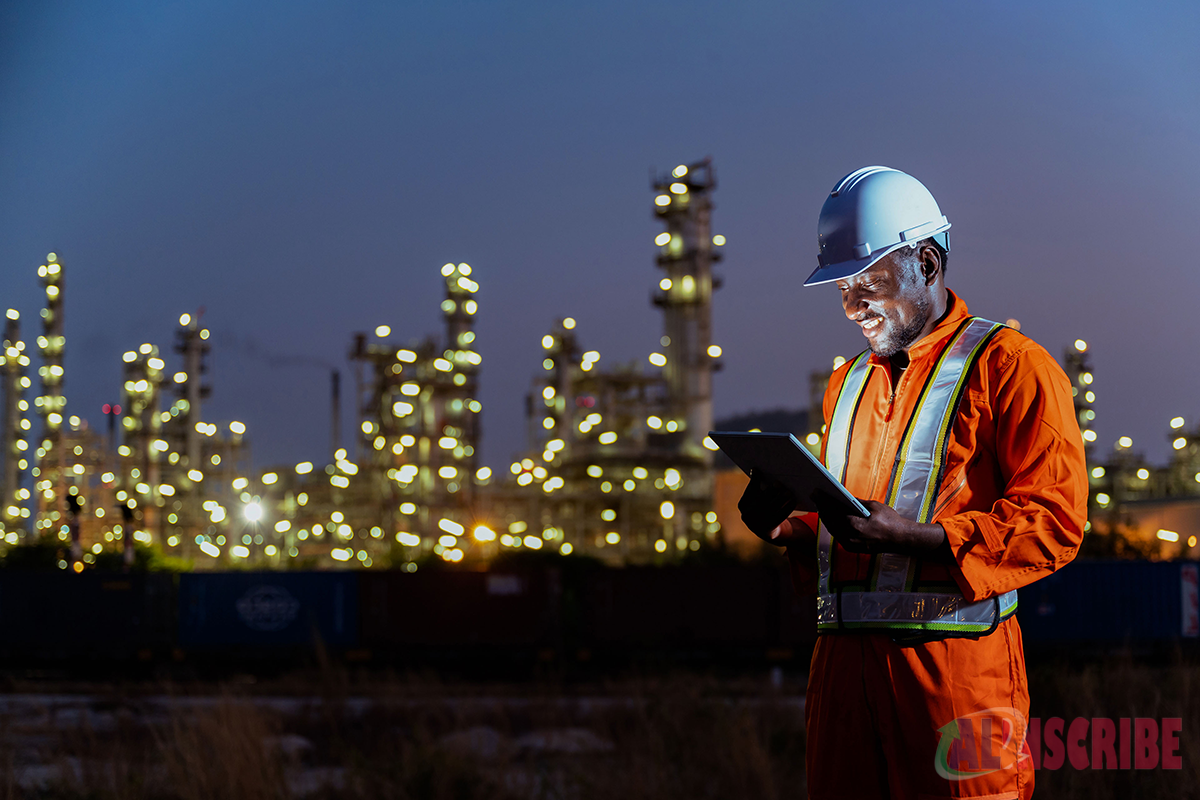 Benefits that can be gained by implementing oil and gas ERP software
There are numerous benefits that you can acquire upon implementing suitable oil and gas ERP software for your business. Some of the most common benefits of implementing these ERP systems are presented in the following section.
Never-before management
Oil and gas industry is undoubtedly one of the industries to be associated with risky and critical tasks, which requires effective management and monitoring incorporation. The processes that include rig management, site engineering, land and water management, compliance management and more, need to be streamlined effectively in order to extract as much profit as possible.
Implementation of oil and gas ERP software will provide you with access of real-time data, real-time information and analytics. Having access to real-time analytics empowers informative decision making, enhanced communication and better productivity.
Better integration
Oil and gas ERP software establishes a better integration among all the departments of an oil and gas company. With a centralized system you company achieves smoother workflow. Moreover, you can integrate your ERP system with several other third-party software for saving both time and effort.
Risk management
Risks are inevitable and being ready to combat all of the potential risks is the only way to survive in an industry. In oil and gas industry, there are always challenges and risks looming above, which require a solid plan to be mitigated properly. Oil and gas ERP software can help you in recognizing risks factors in the early stage of a project. It also provides an idea about the success rate of a project.
Easy monitoring
You gain a comprehensive view of your company's performance by implementing oil and gas ERP software. it provides you with a visibility into the company's processes, the supervisors and the managers can easily monitor employees' performance and take necessary measures to mitigate any existing issues.
Quality control
Quality control is one of the most critical part when it comes to oil and gas industry. With the help of oil and gas ERP software you can set certain quality standards and can track the loss in distribution. This helps you in minimizing incidences while making sure that the purification and refining process is being performed keeping all the standards under consideration. You can also record all the related data and produce reports based on the same.
Cost control
You get to overview the cost of your oil and gas company upon implementation of oil and gas ERP software. ERP systems offer reports, with the help of which you can easily monitor the expenses and set a strict budget. Moreover, automated systems eliminate the cost of manual incorporation, which saves a lot of money as well.
Effective and efficient staff training
Without a doubt, oil and gas ERP software can be a convenient container of all training related materials. Modules, such as knowledge base, contain all the training related and other important documents. This become easy access for new recruits and staff that need to confirm something, saving both time and training expenses.
Conclusion
This article can be concluded by stating that oil and gas ERP software are certainly helpful in enhancing the overall performance of an oil and gas company. However, companies need to choose their software intelligently. This is why we have discussed the essential features that can help the oil and gas companies in choosing the most suitable software for them. You can also read the article on Top 10 Best ERP Software For Oil & Gas Business for narrowing down your list.