Banking Sector is considered the backbone of a country's economy. It plays a crucial role in the functioning and economic upliftment of an economy. From adopting a neo-liberal approach and earning higher profits to improving the economy in general and satisfying social needs, banks are the most significant financial intermediaries as they bridge the gap between surplus and deficit economic agents.
But just like any other industry, even Banking Sector finds itself under extreme pressure, including tightening margins and increased competition. The challenges are crystal clear- not to mention the plethora of rules and regulations and expeditious market for new offerings and delivery channels. The challenges and industry coercion are exacerbated by the distorted high costs of internal operations associated with financial, external, management, and regulatory reporting that is often linked to out-fashioned legacy technology systems.
As a decision-maker in the banking industry, you might be taking a hard look at your age-old systems, and if you aren't then you must in order to digitally transform your business, and derive benefits from integrating data, processes, and analytics to boost all aspects of finance ecosystem, including compliance. The solution rests in the implementation of Enterprise Resource Planning (ERP) software for Banking Sector. ERP Software for banking industry can be a valuable ally to banks in their efforts to achieve agility, drive operational efficiency, and fulfill customer expectations.
What Drives the Implementation of ERP Software for banking industry?
An urge to analyze opportunities to palliate risks
Accelerating an organization's ability to introduce new products to the market
Facilitating forward-looking analysis to identify new growth opportunities
Acquiring Leadership role to measure and understand the intangible drivers of value.
This article brings together the pieces of why it is important to implement ERP Software for banking industry, what are the typical features of ERP Software for banking industry, and what benefits can be derived from ERP software by financial institutions. Further, we will address the challenges faced by the banking industry and the introduction of digital transformation trends in the development of the sector.
ERP Software for banking industry: Is it Necessary?
Economic development tends to become speedier if the banking sector is robust and efficient and hence, banking and financial institution are referred to as the backbone of any economy as it has a direct bearing on financial and economic development. Banks collect money from individuals and then lend them to businesspeople, manufacturers, and other people, keeping aside a proportion.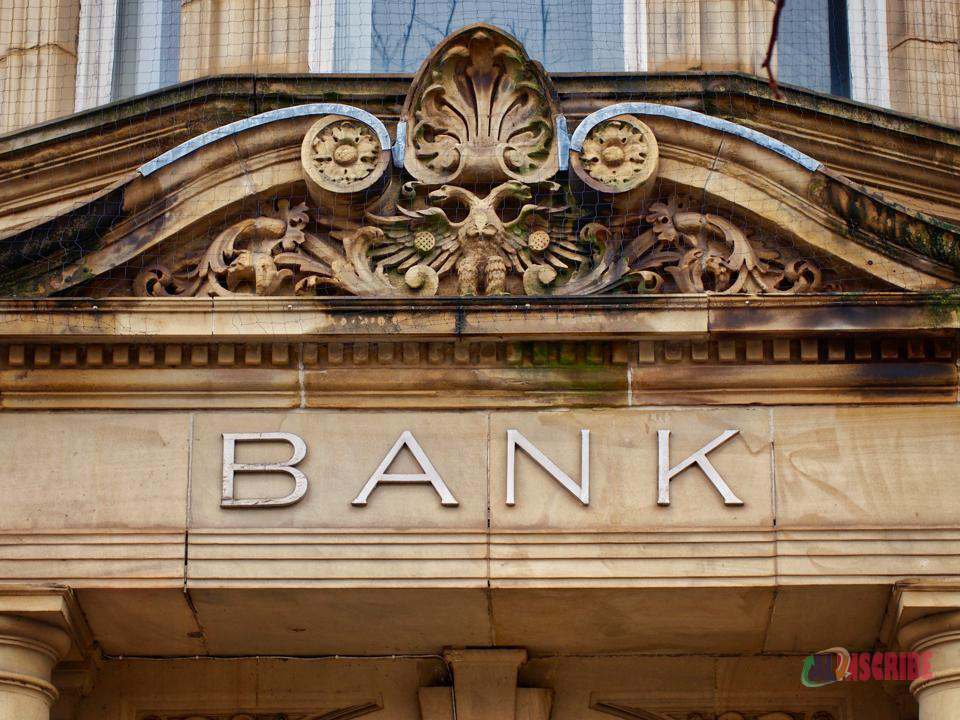 There are different types of banks existing in the market. They are enumerated below:
| | |
| --- | --- |
| Commercial Banks: | Functions include receiving deposits, lending loans, and financing the trade of the nation. Special Feature being short-term credit i.e., lending money for short periods. |
| Exchange Banks: | Mostly finance the foreign trade of a country. Prime task is to discount, accept, and collect foreign bills of exchange. Buy and Sell foreign currencies and help businessmen to convert their country's currency into any foreign money. |
| Industrial Banks: | Performs the function of advancing loans to industrial undertakings for longer periods of time to purchase capital assets. |
| Agriculture or Cooperative Banks: | Provide funds to farmers for both long-term and short-term period. Long-term loans are for purchasing land or permanent improvements on land whereas short-term loans are granted to purchase equipment, fertilizers, and seeds. |
| Savings Banks: | Encourage the idea of thrift savings and discourage hoarding. Post Office |
| Central Banks: | Also called Apex Bank, usually controlled and owned by the government of the country. |
| Utility Banks: | Banks that create instruments of credit, increase the mobility of capital and promote savings. |
Banking Industry is regarded as a highly regulated industry with new guidelines and parameters applied consistently. Data breaches, data security, and the need for better customer experience aren't just table stakes for banks, one erroneous step and will lead to heavy fines followed by customer attrition. Thus, financial institutions must consider implementing ERP Software for banking industry which will provide them with outstanding facilities to operate them business more efficiently.
ERP Software for banking industry is an ideal solution because of its data-oriented nature. Data Management can be one of the biggest challenges banks might encounter. It is beneficial to both smaller and bigger industry players. ERP Software for banking industry is considered a great solution to leverage all banking processes like creating financial reports, accounts management, payment processing, cash accounting as well as security management. But before arriving at the conclusion, let us first check what features it holds!
Typical Features of ERP Software for banking industry:
1. Profit Tracking:
Most essential function of ERP Software for banking industry software. This feature of profit tracking offers a comprehensive view of overall financial health of your business and gain insights into financial resources. It allows you to check from where your profits are generated and assists in rectifying ROI for any future purchases. The ERP software also helps you to predict your future profit based on previous sales and expense data.
2. Accounts Payable:
This feature helps you to manage all your funds, especially those which are closely related to creditors as well as vendors. With the robust ERP Software for banking industry software in place, the automated accounts payable feature will help to save time and money both wasted on human errors and labor hours. It enables you to quickly process huge amounts of invoices and other transactions between the organization and the vendor. Above all, it let you keep track of how much you owe and when they are due so that they could be cleared.
3. Ledger Management:
One of the most important business processes of ERP Software for banking industry and financial management systems. Ledger offers a complete record of every financial transaction made. It is the best way of placing all your financial data in one location. It also makes filing tax returns simpler and maintains your spending in an optimum way. ERP software provides a bird's eye view to help you keep track of every financial movement.
4. Accounts Receivable:
This feature helps you to manage all the funds that customers owe. The ERP Software for banking industry software helps speed up the collection process and enhance customer relationships at their best with simpler payment methods and quick access to finance features.
5. Fixed Asset Management:
This feature facilitates tracking and managing all tangible assets such as office space, vehicles, printers, computer systems, and many more. The FA management feature helps to get quick and vivid visibility, including utilization of assets, their maintenance, and costs. You can calculate assets depreciation and credit expenditures and draw budgets later.
6. Risk Management:
Financial Sectors need to gear up to be well acquainted with whether there lie some risks behind their strategy for which they have to keep their business completely protected. With this feature, you can simply manage, analyze and predict shortcomings at any time. It is almost impractical for banks to review each and every transaction (as there are a huge number of transactions taking place) for error or fraud. The Risk Management feature helps to create a culture of continuous improvement, monitoring with advanced access controls, advanced financial controls, and financial reporting compliance.
7. Reporting Analytics:
Data Analytics and Reporting help to maintain finances in a superior way. It offers precise visibility and makes data-driven predictions associated with company's finances. The dashboard displays everything such as predicted and actual sales and expenses, and different customized financial elements you would like to observe. It also displays real-time data in graphical formats so that the users can understand the financial status of the business.
8. Tax Management:
Another feature of ERP Software for banking industry is that it helps to improve control over tax data, manage potential risks, and enhance efficiency of business processes.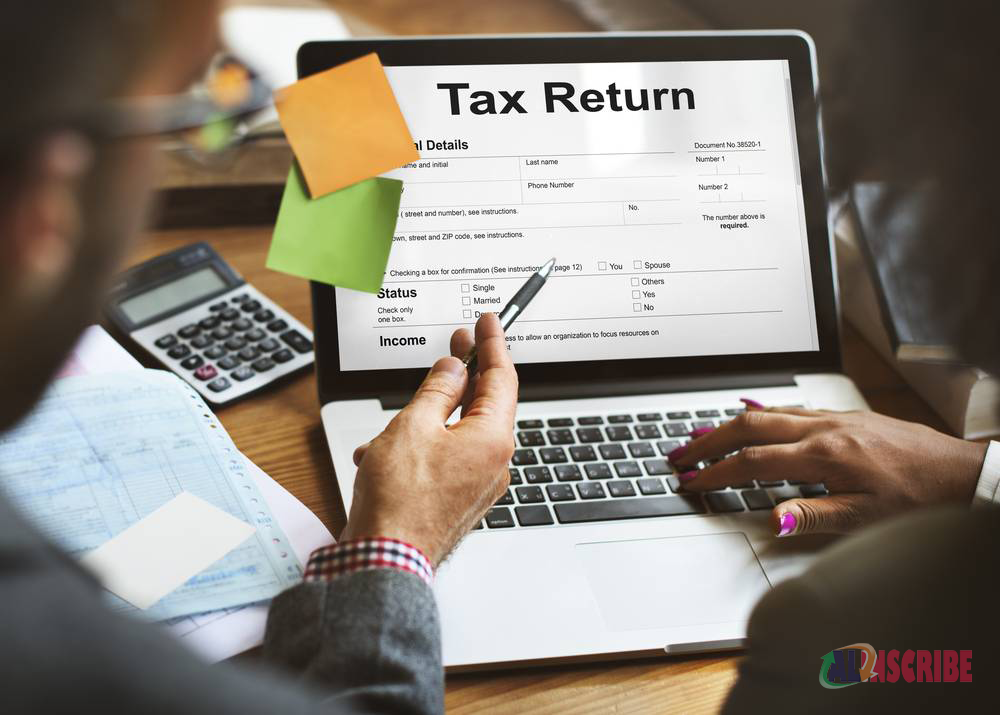 Tax Management Feature assists with:
Overseeing the evolving business requirements of the tax function to adequately address them at the time of implementation.
Focusing on automated tax calculations, tax reporting, and documentation to eliminate labor-intensive processes and augment transactional processes.
Integrating GST and other global trade requirements within ERP solutions
Data Visibility and indirect tax reporting
9. Global Assistance for Financial Processes:
ERP Software for banking industry helps in leveraging the technology and advanced tools for different conversions, currencies laws, and abide by the guidelines of different countries, languages, and multinational transactions. It offers the execution of various financial tasks throughout global locations and spread your business with utmost precision.
10. Payment Management:
The payment management feature facilitates maintenance of records and processes that are fundamental to effectively recording of accounting transactions for timely payments. Enables business owners to perform a host of bank-related activities including e-payments to parties, bank reconciliation, and cheque management.
Benefits of ERP Software for banking industry:
1. Business Processes Automation:
The very first and foremost benefit of ERP is the automation of banking processes. It reduces human errors and maximizes cost savings which result in better business outcomes and lower operational costs. It is also the most accessible and convenient way to simplify backend processes like document processing. RPA (Robotic Process Automation) is yet another powerful and effective tool significantly adopted by this sector for making time-consuming banking operations more organized and automated. As per the reports, RPA in the banking sector is anticipated to reach approximately $1.12 billion by 2025.
2. Bye-Bye Batch Processing, Hello Real-Time Transactions: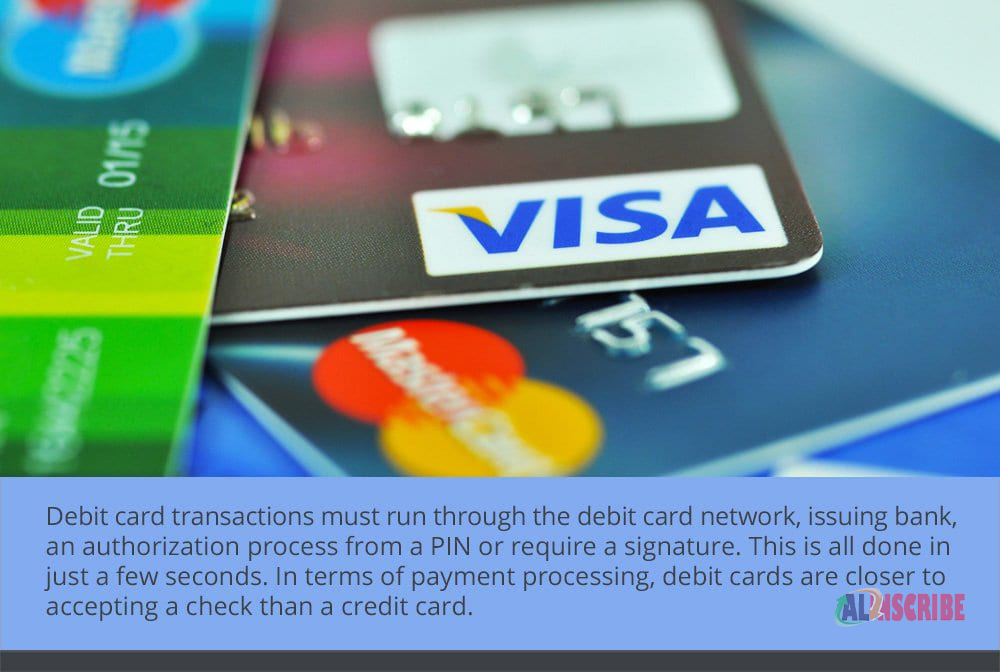 Today's global world demands faster payments and consumers expect instant transactions while buying goods and services. Instant payments make it easier to borrow money, make large purchases, and maintain affirmative status with vendors. For any financial system, non-real-time payment locks up money, making it inoperative by businesses and consumers. For banks operating on a traditional batch model, transactions accepted don't really make any difference in account balances until batch processing takes place from theoretical to real deal. It causes problems like unsatisfied customers to fraud management. Real-time transactions provide tremendous benefits and help to combat fraud. It not only makes banks happier but customers too, enables shorter time-to-market, lower operational costs across the board, and better fraud management.
3. Enhanced Customer Experience:
Honing digital onboarding strategies can greatly enhance customer experience (CX) in banking sectors. Banks that prioritize CX are most reasonably to succeed. The adoption of new technologies such as Blockchain and AI offers a range of benefits over traditional methods such as standing in long queues to fill out paper forms and in-person meetings. CX is an excellent indicator of business success, especially when you want to become a better marketer, build brand loyalty among customers, and outperform your competitors.
4. Time-Saving:
ERP Software for banking industry helps to speed up processes by automating tasks. Banks can access consolidated view of account balance and transactions anytime. ERP also provides 24/7 customer support for account holders.
It allows quick transfer of money between accounts
Eliminates disparate systems across departments and integrates all transactions into one single system.
Allows accessing account information from anywhere at any time via computer or mobile device.
5. Ensuring Data Security:
A Cloud ERP has multiple intrusion detection systems in place to safeguard all confidential data. ERP systems provide data security through standards-based security practices, risk and failover management, and attack prevention. Banks will have instantaneous and inbuilt alert systems in ERP so that the admin is forewarned if any suspicious activity is detected.
6. Exalted Transparency:
Transparency is critical to ensure compliance and traceability into all aspects of business operations to improve operational efficiencies and drive business growth. Transparency of bank's activities and disclosure of information really helps to foster effective market discipline and strengthen financial stability. ERP for Banking Sector helps to promote visibility and compliance with government regulations concerning data of the citizens.
Despite such fabulous benefits, implementation of ERP Software for banking industry is not free from challenges. What are those challenges faced by banking industry? Let us have a look.
Challenges faced by the Banking and Financial Services Industries:
1. Eradicating Data Breaches:
Cybercrime has become quite a norm nowadays. Its prime targets are financial service organizations. Banks and financial institutions are more vulnerable to cyberattacks as they carry sensitive data. The increasing risk of cyberattacks and the potential impact on banks is a top priority for government and financial institutions. There have been several data breach cases all around the world, which have cost billions of dollars and adversely impacted the economic situation of different countries. ERP Software for banking industry helps in removing data breaches in all financial forms by introducing innovative solutions.
2. Evolving Customer Expectations:
Customers tend to expect a lot and hence they wish for additional customer services from the financial providers. Customers wish to have a deep analysis of their expenses and get better suggestions on maintaining balance of finances alongside. Customization is taking the front seat gradually as customers wish to have an in-person banking experience accompanied by digital touch to finance-related services.
3. Fraud and Money Laundering: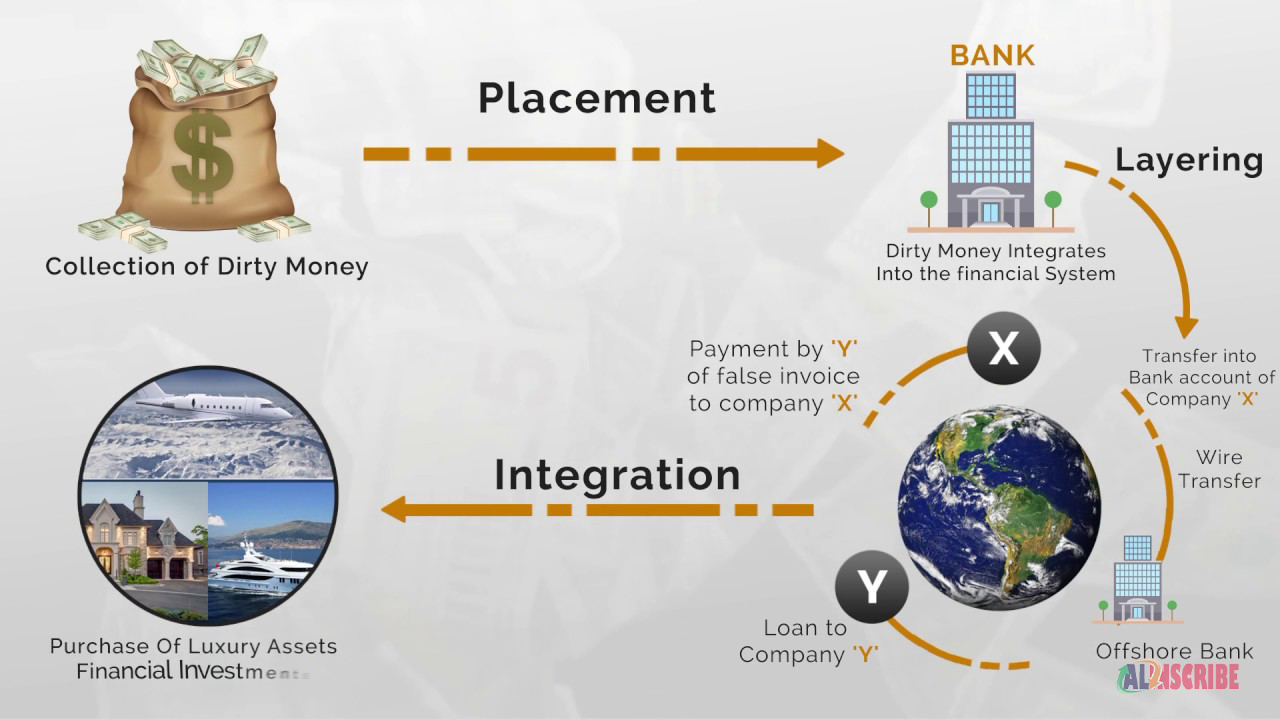 Money Laundering has been a tradition that keeps eroding the financial institution's stability and can probably damage the country's financial soundness. Banking Service providers are constantly making efforts to combat fraud and money laundering cases. They must monitor all customer deposits and transactions to ensure that they don't have any share in money laundering.
4. Digitalization:
Digital Transformation is a complicated and multidisciplinary process jam-packed with unforeseen hurdles and challenges. Embarking on digital transformation journey comes down to surmounting a few common issues such as huge upfront investment in technology, company's culture rigidity, poor senior leadership, and many others. However, the adoption of digital technology will ensure that financial institutions stay ahead of the curve.
5. Strict Banking Regulations:
Supervision in financial sectors is significantly more rigorous and intensive than in other regulated sectors. Banking supervisors engage not only in off-site analysis of a bank's performance but also in wide-ranging on-site inspections. There can be extreme cases where supervisors can snatch ownership rights from the owners of failed or deteriorating financial institutions. Thus, increasing policies and strict regulatory compliances are putting additional pressure on the banking sector.
6. Legacy Technology and Systems:
Legacy Systems still remain one of the greatest barriers to implementing a digital channel strategy. According to the recent survey conducted by Talend, even the respondents admitted legacy software and its natural limitations as one of the biggest obstacles to the transformation in the sector.
Making Room for Digital Transformation in Banking Sector:
With the varying habits of customers and new competitive environment, banks are forced to address their digital transformation journey as a matter of urgency. Digital Technology will have a strong impact in terms of increasing competition and contestability in the banking industry. Digital disruption will offer the potential to recuperate efficiency with innovation, enhanced supply diversity, and a much more competitive financial system that shall yield market extension augmenting financial inclusion.
The banks are responding to the digital challenge by using different approaches at varying speeds. Digital Banking is a trend that has been stretched over the past couple of years. This concerns issues such as generating supply, sales and distribution of financial products and services via digital channels and exploiting avant-garde technology to understand customers better and anticipate their needs swiftly. Traditional banks are undergoing transformation to convert into digital banking systems which allows them to position themselves to the prevailing advanced ecosystem.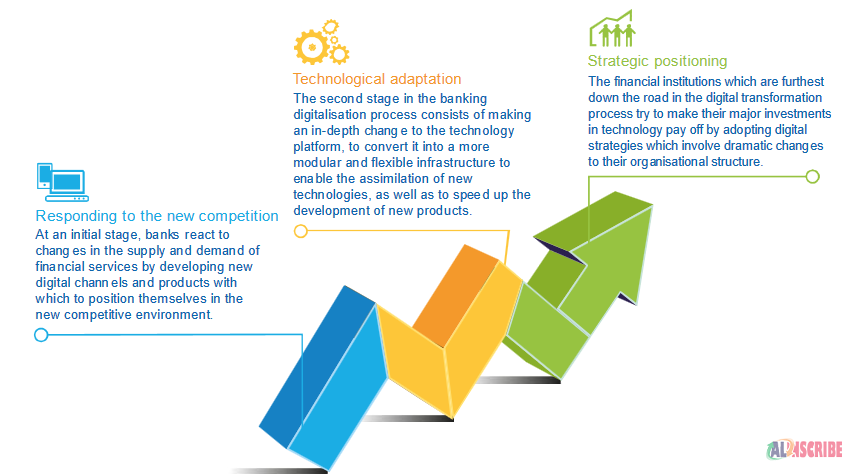 Fig: Stages of Digital Transformation of Banks
Banking apps have appeared for smartphones and tablets with interactive user interfaces and simple text. Likewise, they are also developing new digital products, related to the field of retail payments, for example, digital wallets, and near-field communication (NFC) technology payment solutions.
Digital products and channels are not only means of access, distribution, and executing transaction business that improves customers' banking experience but epitomizes an opportunity to establish brand loyalty, and by combining with advanced analytical techniques, these digital channels help to intensify and personalize commercial relations.
The current infrastructure is not sufficient for rapid integration of newer technologies or to move alongwith the fast-changing requirements of the business. Therefore, this phase demands several financial institutions to consider adopting a cloud computing model which allows optimal utilization of in-house resources, the obvious intention being to maximize the efficiency of the technology pool and achieve greater flexibility over the entire production process.
Blockchain is a powerful method in digitalization journey that allows banks to settle transactions directly and keep a better track than traditional methods like SWIFT. Blockchain technology enables companies to accelerate their processes by getting funding in various ways that involve Initial Exchange Offerings (IEOs), Equity Token Offerings (ETOs), and Security Token Offerings (STOs). Furthermore, banks will be able to eliminate the requirements of third-party verification and speed up deal processing. Blockchain integration with ERP Software for banking industry systems will definitely revolutionize the banking industry and how they conduct their business.
As a matter of fact, ERP Software for banking industry is the need of the hour which will automate the core banking activities and hence increase the quality of customer service by integrating various components and avoiding data redundancy.