Technology and digitization have been taking over the world for a long time now. Each of the industries has been embracing technical changes in their operations and gradually witnessing record profit and growth. In this scenario, the finance industry is one of the sectors to have upgraded services, starting from online banking to applying for loans with just a few clicks, everything can be performed online.
However, backing up and supporting all of these online activities is not at all easy. The banks and financial service providers have to be technically advanced to maintain all the loads they have to take under each day. And that is why the banking sector needs robust banking ERP software that can help in automating and securing the business processes of a banking company effectively.
Nevertheless, the demand for powerful banking ERP software has become the primary reason behind the emergence of a huge number of specialized baking systems. It is quite tough to choose the right banking ERP software for your business when there are a good number of software already available.
An overview of banking ERP software
Banking ERP software is a technical tool that can help in enhancing communication between the users and the bank by digitizing several banking activities with ease and efficiency. It improves the workflow as well as the information flow between the bank and its branches. Thus, an accurate baking ERP software requires it to be powerful, agile, cross-platform, and most importantly secure.
Banking ERP software are capable of streamlining the core business processes of a bank while ensuring there is no chance of data leakage. Additionally, advanced banking ERP software is now offering AI (artificial intelligence) integration. This offers a never-before automation of processes and eliminates both time and manual effort. Thus, choosing the right banking ERP software is certainly a mandatory task that should be performed by banking companies without any delay.
Top 10 banking ERP software
In this section of the article, we have presented the list of the top 10 banking ERP software of 2023. The primary features are the pricing of each of the banking ERP software have been mentioned along with a brief description.
The list is presented in a descending manner. Hence, you have to reach the end of the article to know which banking ERP software has gained the top spot in this list. the list is presented below.
Features

Digital banking
Retail Banking
SME Banking
Corporate Banking
Wealth Management
Loyalty program
Credit union

Pricing

€1,000/$1,200 per user
Backbase is one of the few banking ERP software that offers an omnichannel banking platform. Moreover, there are some unique features such as wealth management and loyalty management, to be offered by the company as well. Backbase already has 80+ institutions as its customer base, which include Deutsche Bank, Barclays, Fidelity, Credit Suisse, and ING.
Enhancing customer experience is one of the primary aims of Backbase. It offers better control, security, and safety to the customers, which leads to growth in customer retention rate. Thus, if you are looking forward to implementing Backbase for your bank, then you can proceed without any hesitation.
Features

Lending solution (mortgage lending, & SME lending)
Digital banking solution
E-wallet
E-commerce Serves
Account & loan management
Card issuing & processing

Pricing

Pricing is available upon quotation request.
Mambu is considered one of the most successful core banking ERP systems of 2023. It is offered as a SaaS and can be accessed via any browser with an active internet connection. Even though the banking ERP software is comparatively newer than the other mentioned ones, it has already gained 100+ financial and non-financial organizations as its customer base.
The unique set of features of this banking ERP software includes an e-wallet, e-commerce services, and many more. Mambu is very easy to use and has an easy interface, which makes it preferable among users. The cost-effective SaaS engine is certainly one of the best banking ERP software that you can choose for your company.
Features

Cloud banking platform
Digital investment facilities
Lending solution
Core banking system
Brokerage facilities

Pricing

Pricing is available upon quotation request.
The best thing about Bricknode is that it is easily compatible with any kind of business and any size. However, the software is especially eminent for its core banking features. This banking ERP software is available in both readymade and customizable forms, making it easy for companies to choose the preferable option for themselves.
Some of the specialized features of this software are lending solutions, brokerage facilities, and deposit management. Configuring Bricknode is easy, and it can be connected to the central server of the company. Connecting Bricknode to the central server will allow you to gain better access and control over your organizational activities.
Features

Retail Banking
Business Banking
Islamic Banking
Credit union
Retirement & Pension Management
Corporate Banking
Universal Banking Platform
Wealth Management & Private Banking
Asset Managers & Asset Services

Pricing

Pricing is available upon quotation request.
Temenos is recognized as the oldest banking ERP software on this list. The software has been offering core banking services for 25 years already. It has over 3,000 clients and serves more than 500 customers each day. The wide and unique range of banking features is the primary reason behind the loyal customer base and the preference for the software.
The advanced technology that Temenos offers via its services is certainly something to be mentioned. The software is designed to manage retail, corporate, public, and private banks. The software precisely takes care of the transactions and enterprise credit, manages risk and retirement plans, and so on. Additionally, there is 24*7 technical support that you can trust, which is certainly beneficial for baking companies.
Features

Cloud-based infrastructure
Risk management
Data management
Revenue management
Loan management
24*7 banking support
Follows the Islamic banking system

Pricing

Pricing is available upon quotation request.
Next on our list is Oracle Flexcube, which is one of the most popular banking ERP software of 2023. The software is designed in a way that can easily support digital transformation. Oracle Flexcube offers a component-based platform, which is easy to use and easily adoptable by banks of every size.
With a front and back digital capability, you gain a 360-degree digitized platform to manage all of your organizational activities. If your bank is specialized in retail banking, then Oracle Flexcube is the best software for you without any doubt. It also offers machine learning facilities, which leads to enhanced customer satisfaction. Hence, choosing Oracle Flexcube can bring a lot of positive outcomes via your company's ventures.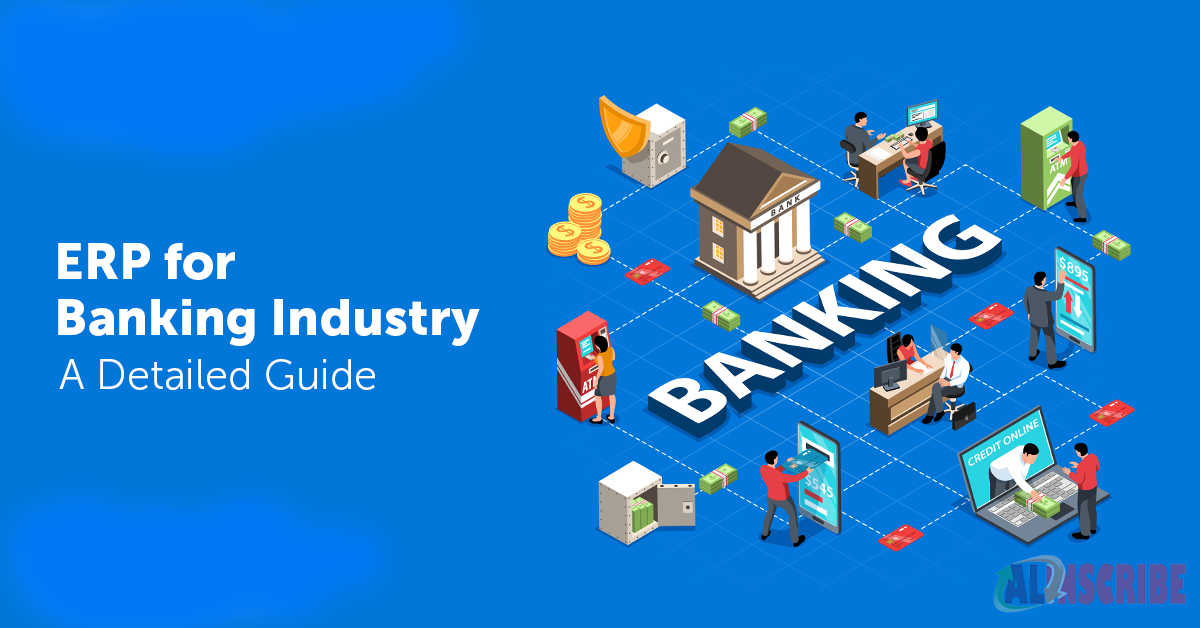 Features

Core Banking System
Centralized Dashboard
Bank Reconciliation System
Customer Relationship Management
Accounting Management System
Integrated Security System
Human Resource Management
Inventory Management System
Online banking
Crypto banking
Payroll management system
Mobile banking
Deposit & withdrawal management

Pricing

Pricing is available upon quotation request.
Banking ERP solution offers several functionalities and features to enhance every kind of activity that a banking organization may have. This banking ERP software is capable of controlling your entire banking system while centralizing and streamlining every process effectively.
The software is mainly a customized project, which means you can construct it based on your requirements. Some of the unique features that the software boasts include crypto banking and an integrated security system. Thus, choosing this banking ERP software for your bank can certainly prove to be worthwhile for your business.
Features

Digital banking
Payment manager
Business lending
Cheque service
Mortgage Technology
Digital banking
Corporate and retail banks
Cash & liquidity management
360-Degree account holder view
Treasury and Capital Markets Investment Management

Pricing

Pricing is available upon quotation request.
Finastra offers a three-in-one solution for all banking organizations. You can find digital, commercial, and retail solutions. The primary aim of Finastra is to offer aid to traditional banks, community banks, neo-banks, credit unions, and many more.
It is one of the most innovative and agile banking ERP software you can ever find. It can be customized easily offering the organization the freedom to offer various financial services without facing many issues.
Features

Digital e-wallet
Mobile Neo banking
SWIFT
Verification services integration
SEPA Instant Credit Transfers
Open banking API
Currency exchange
Crypto exchange
Payment institution

Pricing

Pricing is available upon quotation request.
FinTech Lab is considered one of the best core banking solutions for its flexibility. It is designed in a way that makes it a suitable choice for any bank with any kind of financial business model. Additionally, it boasts a number of enriching and powerful features that easily manage most of the complicated business processes of the banking sector. It has already gained quite a lot of attention in the fintech and Crypto industry.
The banking ERP software was developed with a PSD2-compliant platform, which makes it one of the most trustworthy choices to ever opt for. FinTech Lab has become of one the most used banking ERP software in Europe and Asia as it not only strengthens the workflow of your business but also maintains customer engagement like never before.
Features

Mobile baking
E-banking
Channel banking
Corporate Banking Suite
Core Banking solution
Digital Engagement Hub
Mobile Teller
Virtual Accounts Management
Payments Suite
Virtual Accounts Management

Pricing

Starts at $500000 as a one-time payment per user
The second on our list is Infosys Finacle banking ERP software, which is one of the finest tools to assist traditional banking organizations in digital transformation. Finacle is sold as a cloud-based SaaS product for facilitating customer engagement and cost-efficient options. The primary aim of Finacle is to drive the banking sector towards digitization.
Finacle offers an amalgamation of modern and traditional business components, which makes it easy to leverage data and get accustomed to the software. Different business segments offered by this banking ERP software are wealth, retail, business, corporate, and Islamic banking. Thus, it can certainly be one of the best and most competitive choices for banking ERP software.
Features

Marketplace payment system

E-wallet
P2P Money Transfer
Gift and prepaid cards
Currency exchange
Omnichannel banking
Card-to-card payments
Mobile banking
Internet banking
Loyalty program
E-commerce solution
Neobanking
Multilingual localization

Pricing

€2,500 per month, plus €0.1 per each transaction
The top position in the list of banking ERP software has been acquired by SDK Finance. It is a pioneer in the core banking ERP software market, which offers an API-driven SaaS platform. One of the biggest reasons behind the preference of SDK Finance is its cost-effectiveness, which can be the best probable choice for medium and large baking companies.
The security that the software offers is top-notch, and it is compatible with any business model. All of it makes SDK Finance one of the most flexible banking ERP software available in the market. Some of the unique features of this software include neo-banking, multilingual localization, and e-commerce solutions. Therefore, it is only natural for the software to gain this the top spot in our list of top 10 banking ERP software.
Conclusion
In conclusion of this article, it can be stated that the banking sector is one of the most important industries for an economy, and digitizing the same requires the assistance of the right software, which is banking ERP software. Choosing the right solution can be completed with the help of the list we presented in this article.